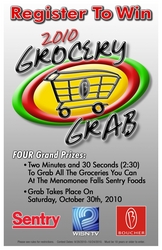 We're happy to participate in a fun and exciting event that will, in turn, also benefit the Hunger Task Force. We hope that this is the beginning of a long and productive partnership" says Frank Boucher
Milwaukee, WI (PRWEB) September 29, 2010
The Boucher Automotive Group, Sentry Foods, and WISN TV have entered into a partnership to participate in the first annual 'Grocery Grab' event to benefit four selected Wisconsin individuals and the Hunger Task Force. Contestants may enter the contest by filling out a general entry form at their local Sentry Food store and/or nearest Boucher Automotive dealership. Four contestants will be drawn and selected to participate in a 'Grocery Grab' at a designated Sentry Foods location. Winners will be chosen geographically, with one winner representing each respective geographical area (North, South, East, & West).
The 'Grocery Grab' will consist of four winners receiving a grocery store shopping-spree to grab whatever grocery items they can obtain during a two and a half minute timeframe. Upon completion of the two and a half minutes, the winner will report to a check-out lane where a representative from the grocery store will ring-up and bag the winner's groceries. Once the total dollar amount of groceries is determined, the Boucher Automotive Group will then match the winner's shopping-spree total and donate the same dollar amount to the Hunger Task Force.
"We're very excited to partner with Sentry and host this event. We're happy to participate in a fun and exciting event that will, in turn, also benefit the Hunger Task Force. We hope that this is the beginning of a long and productive partnership" says Frank Boucher.
Contestants may enter at any of the 16 Boucher Automotive dealerships and/or 26 Sentry Foods locations from Monday, September 28th – October 24th, 2010. Winners will be notified by email and/or phone.
All four "Grocery Grabs" and Boucher Automotive check presentations to the Hunger Task Force will occur on the morning of Monday, October 30th at Madjecki's Sentry in Menomonee Falls. The public is welcome to come and cheer on contestants, view the newest vehicle models of the Boucher Automotive Group, and enjoy refreshments and raffle prizes.
The Boucher Family of dealerships owns and operates 16 dealerships representing 15 manufacturer lines throughout Southern Wisconsin. Recently, the Boucher Group was honored as #67 on the list of Top 125 Dealership Groups in the United States. They have a 30+ year history and are committed to providing a positive car-buying experience to all of their customers. They are active in many charities, the largest being the Muscular Dystrophy Association, as well as many local community organizations.
Sentry Foods is a 26 store grocery franchise. All stores are locally owned and operated by independent retailers throughout Southeast Wisconsin. Shop at Sentry for the Best Meat in Town where you never need a card to save!
Official Rules and further details can be found on http://www.wisn.com/contests.
# # #