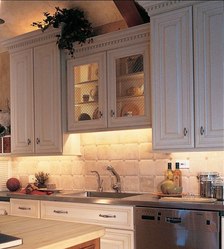 It provides multiple benefits that cannot be achieved with overhead lighting – the most important of which is having the light immediately above the work surface.
Dallas, TX (Vocus) September 29, 2010
Who hasn't gone into a clothes or linen closet, or even a kitchen base cabinet, and wished there were a light in there? It is actually quick, easy and inexpensive to do something about it. The American Lighting Association (ALA) offers suggestions for easily and effectively lighting four light-deprived areas.
Closets
"For years, wives have complained about husbands wearing navy blue socks with black suits. Husbands should not be blamed! Lighting is most typically the culprit," says Jeff Dross, senior product manager at Kichler Lighting.
"Incandescent light does a poor job differentiating between these very similar colors. Illuminating a closet is crucial. Fluorescent lighting can be a good solution, but it is very important to select a bulb with the right color temperature and color rendering," says Dross.
It's not an easy job to find the right bulb for the job when combing the aisles of a home center alone. However, when shopping in a lighting store, the problem is solved quickly. Lighting showrooms – particularly those that are members of the ALA – are staffed with professionals who can demonstrate the differences in light sources and color rendering. Visit the association's website (http://www.AmericanLightingAssoc.com) to find a local ALA-member store.
With the development of compact fluorescent lights (CFLs) and light-emitting diode (LED) bulbs, the use of incandescent and halogen lights in closets is less prevalent. Incandescent is extremely hot, therefore the requirements for using it in closets are more strict than with CFLs or LEDs.
According to Joe Rey-Barreau, education consultant for the ALA and an associate professor at the University of Kentucky's School of Interior Design, CFLs are an excellent source for this purpose. "They are cool to the touch, are much more energy-efficient, and will last many years. CFLs are available in a variety of colors, but it's best to buy the 3500K color temperature lamps, which are very neutral and provide excellent color rendering across the color spectrum," says Rey-Barreau.
LEDs are becoming more popular for closets because of their small size, very long life, and energy efficiency. When using LEDs, Rey-Barreau suggests placing a linear LED above the door in a shallow closet. "That way the light is very evenly and broadly distributed throughout the space," he says. "In larger closets, it's more effective to use a surface-mounted or close-to-ceiling fixture using either CFLs or LEDs."
Inside Cabinets
One of the many advantages of LED lighting is its very small size. Rey-Barreau says, "LED strips can measure less than a half-inch wide. Since they also produce almost no heat, they are ideal for placing inside cabinets, drawers and other small storage areas where lighting was not possible before."
Glass door cabinets are just begging to be illuminated. "I'd recommend small directional LED downlights inside," says Brian Brandes, vice president of product development for SATCO Products and NUVO Lighting. "These would add visual drama, but wouldn't damage the contents from excessive heat or UV rays."
Adding illumination inside a drawer might involve wiring issues unless the light is battery-operated. Dross says, "An easy way to put light inside a kitchen cabinet drawer is by not adding light inside it at all. Instead, consider installing a routered raceway on the underside of the countertop. When the drawer is closed, the light will spill down the front of the cabinets. When it is open, the inside will be fully illuminated without the trouble of planning for drawer movement."
Under Cabinets
Undercabinet lighting is essential. "Undercabinet lighting should be a consideration for any kitchen, regardless of budget," Rey-Barreau says. "It provides multiple benefits that cannot be achieved with overhead lighting – the most important of which is having the light immediately above the work surface."
Dross agrees that if undercabinet lighting is not already installed in a kitchen, then it should be one of the first updates done. "When working at a counter, the general lighting is typically behind the user. This creates a shadow on the counter that can only be alleviated with undercabinet lighting," he explains.
Years ago, the only fixtures were incandescent and halogen, however, the heat they generated was a drawback. The advances in fluorescents and LEDs have moved these versions into the top spot. They don't give off heat and last much longer than their predecessors.
Toekick and Cove Areas
Toekick and cove lighting instantly creates a more upscale look. "This type of lighting provides a very sophisticated appearance," says Rey-Barreau.
Brandes is also a fan of the technique. "Cove and toekick light can accentuate and delineate space as well as architectural details," says Brandes. "Cove lighting can visually lift a room's ceiling by pulling the eye upward, bringing attention to design elements that are typically overlooked."
In a small kitchen, these fixtures present the illusion of more space. "Toekick and cove lights visually increase the size of the room, and add intrigue to areas that are otherwise uneventful," says Dross. Toekick lighting gives cabinetry a floating appearance while highlighting details in moldings.
The best toekick and cove light sources are fluorescent, xenon, and LED, because they are more energy-efficient and incur less maintenance than incandescent. However, placement is key. "It is most effective to put the light source as far away from the wall as possible to provide the most even illumination," Rey-Barreau advises.
For answers to all types of lighting questions, and to find the best lighting options for out-of-the-way spaces, visit an ALA-member lighting showroom. To locate an ALA-member showroom, visit http://www.AmericanLightingAssoc.com.
###