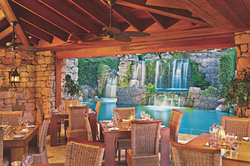 Palm Beach, Aruba (PRWEB) September 30, 2010
The Hyatt Regency Aruba hotel's esteemed culinary team under the leadership of Executive Chef Victor Litkewycz and Chef de Cuisine Jeramy Wooldridge have unveiled the highly-anticipated new menu at Ruinas del Mar, the resort's signature elegant indoor/outdoor restaurant. Mouthwatering classics take on a contemporary twist by incorporating authentic Aruban flavors, while those with dietary restrictions can still savor the Caribbean fusion dishes with vegan and gluten-free options. As the gourmet new menu at the Aruba restaurant tantalizes taste buds, the al fresco dining and dramatic lagoon views transports diners to one of the most unforgettable scenes in Aruba.
Locals and guests will marvel at the expertise in which Hyatt Regency Aruba's Culinary Team transforms traditional dishes into modern delicacies through the use of regional Caribbean flavors. The Chef begins the dining experience by offering each guest an amuse-bouche - a little surprise to wet the palette for the high-quality native ingredients that define starter items and entrees, including:

Truffled Mushrooms served with coarse ground soft funchi and a fricassee of local and exotic mushrooms
Keshi Yena Salad, a traditional Aruban dish incorporating fresh mixed greens, slow roasted chicken, cashews, crispy capers, Dutch Gouda and a raisin vinaigrette
Sopi Fruta Del Mar, one of Chef Jeramy's favorites - and written in Aruba's Papiamento language - is a local seafood soup with tomato, fennel and grilled pan di casi
Plantain Crusted Snapper served with pompoena (pumpkin) risotto and papaya beurre blanc
Grass Fed Filet Mignon crusted in sea salt from the nearby island of Bonaire and served with Gouda gratin, creamed spinach and beurre rouge
New menu prices range from $11 to $48. Those who wish to sample multiple dishes can travel through the chef's favorites with a five-course tasting menu, available for the entire table to enjoy for $75 per person. Guests also have the option of pairing each course with wines off Ruinas del Mar's extensive international wine list for an additional $30 per person.
Upon arrival at Ruinas Del Mar, guests are welcomed by the warmth of fire-lit torches in the outdoor patio. Rustic walls built from indigenous Calichi limestone, which resemble a historic stone fort, lend an air of authenticity to the restaurant name (Spanish for "Ruins by the Sea"). Black swans and Koi fish swim peacefully in the surrounding lagoon, while landscaped gardens, bubbling fountains and a cascading waterfall form a peaceful oasis and the perfect backdrop for diners.
Like the dishes, the inside of the Aruba restaurant is "uncomplicated chic" with its warm, elegant and contemporary atmosphere. The stunning views, cleverly conceived dining options, remarkable wine selections and new menu makes Ruinas del Mar an experience like none other on the island of Aruba.
"Hyatt's philosophy is to remain close to the authenticity of the destination and the new Ruinas del Mar menu brings this concept to life here in Aruba," said Susan Santiago, General Manager of Hyatt Regency Aruba Resort & Casino. "Our outstanding chefs, Victor and Jeramy, drew inspiration from local Caribbean ingredients, while combining European techniques with global flavors to create a sophisticated new menu that truly enhances Aruba's culinary landscape."
Ruinas del Mar is open Monday thru Saturday for breakfast and dinner with a Champagne brunch available on Sunday. For more information about the Hyatt Regency Aruba or Ruinas del Mar, call 1-800-55-HYATT or visit http://www.hyattregencyaruba.com.
Hyatt Regency Aruba's Fall Sale Promotion offers 30% off the resort's best available rate, with no minimum length of stay required. The offer is valid until December 21, 2010. Rooms at Hyatt Regency Aruba Resort & Casino start at about $259. Call 1-800-55-HYATT or visit http://www.hyattregencyaruba.com.
About Hyatt Regency Aruba Resort & Casino
Located on 12 acres of magnificent beachfront property on Aruba's world-renowned Palm Beach, Hyatt Regency Aruba Resort & Casino is a year-round resort with a reputation for refined hospitality. Its 357 sumptuous guestrooms and suites have been recently renovated to include plasma televisions, roomy bathrooms and Hyatt's signature Grand Bed. The multi-million dollar renovation brings a fresh chic to the hotel with an emphasis on natural stone floors and colorful Caribbean accents. Recreational facilities are abundant and include a 3-level pool complex, a spa with fitness center, tennis and basketball courts, a private beach, Camp Hyatt for kids and the Casino Copa Cabana. On-site dining includes Ruinas del Mar restaurant, Café Piccolo, Café Japengo and the Palms Bar & Grill. Nine meeting rooms and extensive outdoor areas are ideal for catered special events. The resort is conveniently located just 15 minutes from Queen Beatrix International Airport. For more information, call 1-800-55-HYATT or visit http://www.hyattregencyaruba.com.
# # #