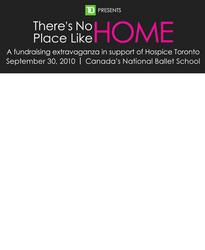 (Vocus) September 29, 2010
TD Presents There's No Place Like Home, an annual fundraising event in support of Hospice Toronto hosted in Canada's National Ballet School, 400 Jarvis Street, Toronto, Ontario M4Y 2G8 on Thursday, September 30, 2010 at 7:00 p.m.
TD Presents There's No Place Like Home is made possible through the generous support of Media Partner, Proud FM, with catering by à la Carte Kitchen.
Funds raised at the event will support Hospice Toronto's high-impact, home hospice palliative care and support programs and services for people living with life-threatening illnesses, and their loved ones, at no charge.
This year's event will be extra special, as it will be the official launch of Hospice Toronto's new Young Carers program: a program to support children who out of necessity, have assumed a caregiving role for a family member coping with a chronic or life-threatening illness, or living with a disability, mental health challenges, or substance abuse.
The evening will feature gourmet delicacies of à la Carte Kitchen, special presentations, a surprise filled silent auction, and exclusive Lucky Key contest. Live entertainment by jazz quartet, the Gene Pool Boys, and special guest host, John Nightingale.
Through our strong involvement in Toronto's diverse communities, TD Presents There's No Place Like Home will be attended by community and business leaders, politicians and honorary guests, and members of the hospice palliative care community.
To order tickets, please go to http://www.hospicetoronto.ca or call 416.364.1666.
With each ticket, you will be eligible to enter in a draw to win an exclusive door prize for an intimate dinner hosted by film expert and regular CANADA AM contributor, Richard Crouse, courtesy of Fuzion Resto-Lounge & Garden.
Interview opportunities are available with event Co-Chairs Dr. Jeff Myers, Head of Palliative Care at Sunnybrook Health Sciences Centre, and Mr. Steve Nardi, former Hospice Toronto Board President and Member, and long-time supporter.
About Hospice Toronto
Founded in 1988, Hospice Toronto is a recognized leader in the development of innovative home hospice palliative programs and services. As Toronto's first not for profit, volunteer-based, home hospice palliative care program, we provide continuity of high-quality, compassionate care and support for people living with a life threatening illness, and their loved ones, at no charge.
###