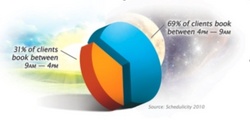 We're bucking the latest trend of highly discounted promotional stunts and allowing small business to get more appointments at full-price.
Bozeman, MT (PRWEB) September 29, 2010
New research in the online appointment scheduling category highlights the importance for businesses to have after-hours appointment booking capability. New data shows that most clients are booking their appointments when their service professional is typically closed. For a small business that relies on keeping a full calendar, online appointment booking can effectively triple the appointment-taking hours from 8 to 24, allowing them to leverage convenience instead of deep discounting to promote and grow their business and provide better client service.
By studying the request time on hundreds of thousands of appointments booked on the web and mobile phones, research conducted by Schedulicity(http://www.schedulicity.com) found that only 31% of consumers actually book their appointments during daytime hours and that the vast majority, 69% of clients, booked online in the hours after 5PM and before 9AM, the exact opposite of the traditional work day. Further, the research cited that the least popular time of day for consumers to book a personal appointment online is between 9-10AM, precisely when most businesses are available to answer the phone and are open for the day.
The analysis of nearly 250,000 appointments made recently by consumers via the online scheduling service, Schedulicity, show that:

69% of people prefer to book their appointments online outside of traditional 9AM-5PM work hours.
As many as 20% of people who book appointments online are doing so between 1AM and 9AM
The least popular time for consumers to book online during daytime hours is 9AM-10AM.
The most popular hour of the day to book online is between 5PM-6PM, when most businesses are closing for the day
Steven Michael, a salon owner in Andover, MA explained. "I've been using Schedulicity for my business for over two years now. I've linked the "Schedule Now" button to my web page http://www.stevenmichael-planetcolor.com and my Facebook page so that clients can book their own appointments 24/7, and they do! I can't tell you how many rave reviews I receive on a daily basis. And what a time saver, and money maker, for this busy guy!"
Businesses in all 50 states – in more than 1,300 US cities – use Schedulicity to save time, attract new customers and offer a better service experience to clients. The service is as affordable as $19 a month and – more importantly – free for the hundreds of thousands of consumers who can make appointments online in seconds with their favorite professionals – including beauty salons, spas, music teachers, dentists, plumbers, electricians, lawyers and even dog groomers. Schedulicity currently puts thousands of business owner's calendars online, via the web, Facebook, and mobile so that new and repeat clients can find an appointment that works for them – anytime, day or night. In total, current Schedulicity businesses are booking millions of dollars of appointments every week through the service. With Schedulicity, business owners save hours a day while simultaneously attracting more appointments – even while they sleep or spend valuable time with family and friends. The Schedulicity Facebook community has more small business and client feedback and can be found at http://www.facebook.com/schedulicity.
"At Schedulicity, we help small business owners market their services and fill the appointment calendar for through email marketing, social media marketing, booking convenience and 24/7 availability," said Schedulicity CEO, Jerry Nettuno. "We're bucking the latest trend of highly discounted promotional stunts and allowing small business to get more appointments at full-price. After all, in this economy, if you can deliver growth that's efficient and profitable, that's where the real value is to small business owners."
###