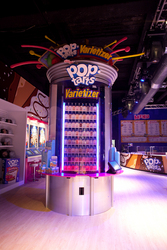 When we started talking to consumers about Pop-Tarts®, we found that consumer of all ages just love Pop-Tarts
Manchester, NH (Vocus) September 29, 2010
Gigunda's latest success, Pop-Tarts World™ is a 3,200 sq. foot store featuring a café, retail outlet and a fully immersive and interactive Pop-Tarts® experience at the cross roads of the world, Times Square. Located at 128 West 42nd Street, the store is adjacent to Bryant Park and is open 11 a.m. to 9 p.m. seven days a week through December 2010. Pop-Tarts World™ goes beyond brand awareness – to full brand immersion within a retail setting. The objective of the program is to bring the brand to life in an experience-based setting that no other brand could replicate.
Gigunda Group builds brand engagement programs based on key consumer insights. When it came to Pop-Tarts®, the insight was simple, yet compelling: people love Pop-Tarts®. Armed with this insight Gigunda and Kellogg's turned the equity of Pop-Tarts into a program that enables the brand to deepen their relationship with consumers.
"When we started talking to consumers about Pop-Tarts®, we found that consumer of all ages just love Pop-Tarts," said Scott Schoessel, COO of Gigunda Group. "Pop-Tarts is a brand that has a tremendously passionate following. We wanted to capture that passion with a one of a kind consumer experience – that is what we are trying to accomplish with Pop-Tarts World™."
The whimsical store design highlights the entertaining nature of Pop-Tarts®. Inside, visitors "peek behind the foil" for an experience that combines the razzle-dazzle of New York's Times Square with the spirit of all-American fun that has been associated with Pop-Tarts® for nearly 50 years, including....

A café featuring over 30 Pop-Tarts® -inspired treats, including Pop-Tarts® Sushi
A 'Varietizer' machine for guests to choose from 23 flavors as they build their own variety pack
A custom creation station where consumers can create and print their very own Pop-Tarts inspired T-shirt
Touch-screen video stations providing interactive entertainment and access to social media
Even the storefront stands out in frenetic Times Square with a six-story billboard featuring Pop-Tarts® swirling around New York's iconic Statue of Liberty.
The Gigunda team worked with Kellogg's and a culinary expert to create more than 30 Pop-Tarts inspired creations featured in the café. They also developed a light show that runs every hour that mimics the 'frosting' process. Guests are turned into a virtual Pop-Tart® using light. The show starts with a red and white light, followed by brief pulses of light to mimic sprinkles and then a bright light to evoke a foil wrapping.
The multi-sensory Pop-Tarts® store has generated huge buzz, appearing in every major media outlet, including The New York Times, the Today Show, ABC World News Tonight, the CBS Evening News, CNN and The Wall Street Journal online. The store saw thousands on opening day and far exceeded traffic and impressions goals set by Kellogg's.
For Gigunda Group, Pop-Tarts World is another example of how the agency changes the game for brands by helping to define and bring to life an immersive branded experience. Charmin NYC Restrooms, Duracell's Power Lodge, M&M's Pure Dark and Bounty's Make-A-Messterpiece are all top performing marketing programs created by Gigunda Group.
About Gigunda
Based in Manchester, New Hampshire, Gigunda Group is an innovative experiential marketing agency that prides itself on being idea instigators and insight experts. Gigunda has activated experiential programs such as the groundbreaking Charmin Restrooms campaign in New York City and Tide Loads of Hope. In addition to P&G, Gigunda's client roster includes brands such as Sony, Yahoo, Activision, Kellogg's, Nike, GlaxoSmithKline, Mars Snackfood and Stanley.
In 2008, Promo Magazine named them the most creative agency in the United States. The company has won more than 60 industry awards since 2007 and was honored with the prestigious P&G Family Care Inspiration Award in 2006.
###