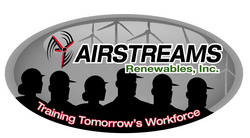 "We are constantly looking for ways to add value to our existing programs and offer more flexibility to our students" says Mike Messier, Executive VP of Training.
Tehachapi, CA (PRWEB) September 30, 2010
Airstreams Renewables, Inc., Experts in Safety and Technical Training, has partnered with Lab-Volt, The World Leader in Technical Training for public education, industry, and the military, to offer the Industrial Training Zone by Lab-Volt catalog of online courses to the Renewable Energy Market. These self-paced courses allow students to expand and reinforce their knowledge base both before and after their classroom training. They also give students the ability to enhance their electronic, hydraulic, and renewable energy qualifications. Airstreams accelerated training programs have gained industry recognition, with its most popular AS1001 20-Day Course sought out by students as one of the quickest ways to enter into the wind industry with placement rates exceeding 78%.
Airstreams is committed to offering the highest quality hands-on safety and technical training programs available within the Renewable Energy Industry. We are focused on skill sets designed to meet industry standard expectations for both entry level and advanced construction and service technicians.
For additional information visit our website at http://www.air-streams.com or call us at 661-822-3963 to learn more about Airstreams Renewables, Inc. and how we can meet your renewable energy training needs.
# # #