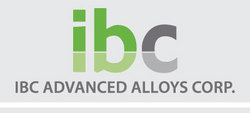 IBC is pleased to be a part of the provisional patent filings covering these important advances and technological improvements realized over the last two years of work with Purdue and Texas A&M universities
Vancouver, BC (Vocus) September 29, 2010
IBC Advanced Alloys Corp. (TSX-V: IB) ("IBC" or the "Company") announces that Purdue University has filed provisional patents covering IBC-funded current nuclear fuel research and new discoveries, underway at Purdue and Texas A&M universities. The research work is being conducted under a collaborative research agreement signed with IBC in August 2008 under which IBC has the option for an exclusive license to the intellectual property being developed under the research agreement.
The fields of invention and technical fields being patented under the provisional filings are the design of enhanced high thermal conductivity nuclear fuel made of uranium oxide with addition of a compatible high thermal conductivity material such as beryllium oxide using controlled microstructures in the product.
Current work by Purdue and Texas A&M nuclear engineers has shown that an advanced BeO nuclear fuel could potentially result in significant cost savings and greater operating efficiencies over conventional nuclear fuels. Additionally, an advanced UO2-BeO nuclear fuel could also enhance the operational safety of both current and future nuclear reactors due to its superior thermal conductivity. Other benefits include a theoretical reduction in fission gas release allowing higher fuel burn up and less stored energy in the fuel pins.
"IBC is pleased to be a part of the provisional patent filings covering these important advances and technological improvements realized over the last two years of work with Purdue and Texas A&M universities," said Jim Malone, IBC's Vice President of Nuclear Fuels. "We are looking forward to continuing our collaboration with Purdue and Texas A&M, as well as to establishing a working relationship with an industry partner to continue this exciting and promising research. The field of high thermal conductivity nuclear fuels is gaining increasing positive recognition from utilities, regulators and fuel fabricators," continued Malone, "and IBC is proud to be a part of this exciting new opportunity and market."
About IBC Advanced Alloys Corp.
IBC is an integrated manufacturer and distributor of rare metals (beryllium) based alloys and related products serving a variety of industries including nuclear energy, automotive, telecommunications and a range of industrial applications. IBC has 80 employees and is headquartered in Vancouver, Canada with production facilities in Indiana, Massachusetts, Pennsylvania and Missouri. Additionally, IBC owns prospective beryllium properties in the Western US covering approximately 9,500 hectares. IBC is creating a dynamic global beryllium and advanced alloys company. IBC's common shares are traded on the TSX Venture Exchange under the symbol "IB". See IBC on Facebook.
IBC Advanced Alloys Corp.
Ian Tootill, Director of Corporate Communications
(604) 685-6263 ext 110
Email: itootill(at)ibcadvancedalloys(dot)com
Website: http://www.ibcadvancedalloys.com
This news release was prepared by management of IBC, which takes full responsibility for its contents. The TSX Venture Exchange has not reviewed and does not accept responsibility for the adequacy of this news release. Neither TSX Venture Exchange nor its Regulation Services Provider (as that term is defined in the policies of the TSX Venture Exchange) accepts responsibility for the adequacy or accuracy of this release.
Legal Notice Regarding Forward Looking Statements
This disclosure contains certain forward-looking statements, such as its goal of creating a dynamic global beryllium and advanced alloys company, that involve substantial known and unknown risks and uncertainties, certain of which are beyond the Company's control including: the impact of general economic conditions in the areas in which the Company operates, industry conditions, changes in laws and regulations including the adoption of new environmental laws and regulations and changes in how they are interpreted and enforced, increased competition, the lack of availability of qualified personnel or management, fluctuations in commodity prices, foreign exchange or interest rates, stock market volatility and obtaining required approvals of regulatory authorities. In addition there are risks and uncertainties associated with manufacturing operations and mineral exploration, therefore the Company's future results, performance or achievements could differ materially from those expressed in these forward-looking statements will transpire. All statements included in this press release that address activities, events or developments that the Company expects, believes or anticipates will or may occur in the future are forward-looking statements. These statements are based on assumptions made by the Company based on its experience, perception of historical trends, current conditions, expected future developments and other factors it believes are appropriate in the circumstances.
# # #