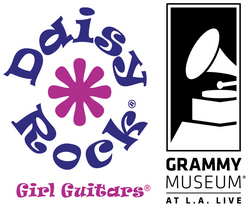 Partnering with The GRAMMY Museum on these events has been a very rewarding experience. At first, we planned for just one event, but the response we've had from women within the industry was extraordinary so we are currently organizing a second one
Los Angeles, CA (Vocus) September 29, 2010
Daisy Rock Girl Guitars—the original girl guitar company—and The GRAMMY Museum® are thrilled to present the "Women in Rock" series, a unique collaboration of successful female music industry professionals gathered to inspire and help L.A. youth through a series of in-depth and insightful panel discussions inside the museum's Clive Davis Theater.
The first of the "Women in Rock" panel discussions will gather over 200 students, grades 6-12, on October 6, 2010. The event will feature five impressive female music business professionals, as well as seasoned performers who are currently working in today's industry, including Megan Jacobs (Talent Buyer/Promoter–The Roxy Theater), Julianne Johnson & Lindsay Harris (Co-Founders–Viva La Rock), Janet Billig Rich (Manager/A&R–Manage This! Media), and Samantha Maloney (former drummer of Hole, Mötley Crüe, Chelsea Girls).
"Partnering with The GRAMMY Museum on these events has been a very rewarding experience. At first, we planned for just one event, but the response we've had from women within the industry was extraordinary so we are currently organizing a second one," noted Daisy Rock President and Founder, Tish Ciravolo. "I'm happy to partner with The GRAMMY Museum to give back to the youth in our community by exposing them to these women leaders and all the wisdom they have to share."
The second "Women in Rock" event will be hosted on October 19, 2010 with industry professionals, including Stephanie St. Gal de Pons (A&R—Alfred Music Publishing, formerly at Warner Chappell), Beth Sestanovich (Group Publisher—LA Weekly), Tina Morris (Studio Manager—The Village Recording Studios), and Erin Yasgar (Independent Consultant). Additional details to be announced.
For more information on the "Women in Rock" events, visit daisyrock.com.
ABOUT THE GRAMMY MUSEUM'S EDUCATIONAL PROGRAM
The GRAMMY Museum seeks to educate and to inspire all museum visitors and members as to the enduring qualities and cultural significance of popular and classical music. By implementing a variety of innovative educational strategies; by incorporating the advice and needs of scholastic teachers, locally, regionally, and nationally; and by presenting the expertise of nearly 14,000 Recording Academy members, The GRAMMY Museum offers the most dynamic and exciting educational programs available from music museums today.
ABOUT DAISY ROCK GIRL GUITARS
Daisy Rock Girl Guitars is the original girl guitar company dedicated to successfully supplying and marketing professional quality guitars for females of all ages. All Daisy Rock guitars are designed specifically for the female form and feature lightweight bodies, "Slim & Narrow" neck profiles to better fit smaller hands, and are available in inspiring finishes. Daisy Rock Girl Guitars' ongoing mission is to do whatever it takes to help girls play guitar and enjoy music.
Daisy Rock Girl Guitars is led by its Founder and President, Tish Ciravolo. Ciravolo is a highly acclaimed expert on female empowerment and females in music. Tish's expertise has been immortalized by her induction into the Museum of Making Music, the world's premier museum showcasing the history of the music products industry, and she is widely regarded as a visionary in the industry. Ciravolo's deep insight into the subject of girl guitars and female empowerment has made her a sought after and frequent contributor on national and international television, newspapers, magazines, websites, and radio programs including People, Time, Newsweek, CNN, ABC, NBC, FOX, VH1, the Premier Radio Network, BBC Radio, and the Associated Press. Daisy Rock Girl Guitars is in over 25 countries worldwide, and is co-owned and distributed by Alfred Music Publishing.
###