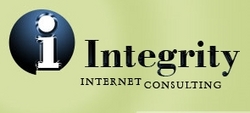 While we recommend long-term strategies for our clients, we do not make them sign long-term contracts. We earn their business every day, every week and every month rather than have them sign a contract.
Denver, CO (PRWEB) September 29, 2010
After 3 years of avoiding the pursuit of law firm clients due to a non-compete clause between lead Integrity consultant Dan Stratford and LexisNexis, Integrity Internet Consulting is now offering their services to law firms. Dan's expertise and knowledge of attorney Internet marketing now means Integrity can offer unique Internet marketing solutions for the legal industry.
Dan consulted for LexisNexis for nearly 3 years before venturing out on his own full-time to provide his Internet marketing expertise to small, medium and large businesses throughout the USA and around the world.
"I joined LexisNexis a few months after resigning from Dex Media's Internet team. LexisNexis/Martindale Hubbell's legal marketing division was a great fit for my expertise and experience in Internet marketing. If it weren't for the fact that I spent 90% of my time travelling throughout the western USA as a consultant. I may have stayed on there for a bit longer. However, with 5 children who needed a father at home, it made more sense for me to apply my experience and skills in search engine optimization, pay per click and social media marketing to growing my own business. Now I can coach my kid's soccer teams, have lunch with them at school and travel when I want or need to do so. I can even mountain bike again!"
Dan was instrumental in the growth of the Internet marketing divisions at both Dex Media and LexisNexis/Martindale Hubbell. Between the two companies he has trained hundreds of salespeople, consulted for and educated thousands of businesses and firms on the ins and outs of Internet marketing.
"Dan's law firm marketing experience is a great asset,"agreed Project Manager David Yarian, "Dan taught Certified Legal Education seminars for multiple legal bar associations in the U.S., and consulted for hundreds of firms throughout the US as an Internet marketing subject matter expert."
Since 2005, Integrity Internet Consulting has provided Search Engine Optimization, Pay Per Click Management and Social Media Marketing services for businesses locally, nationally and internationally. Their clients range from an eclectic group of industries, including: real estate, finance, beauty, medical, information technology, oil & gas, non-profits, churches, e commerce sites and a few law firms.
"We can help a law firm identify the Internet marketing strategies that will best meet their needs, and help them avoid the mistakes that many firms have been making for years based on the horrible advice given to them by biased sales people disguised as lawyer marketing 'consultants'. Rather than being tied to one company like LexiNexis/Martindale Hubbell, Westlaw/Findlaw, Justia or anyone else, we can provide non-biased and affordable solutions for our attorney marketing clients. We may recommend utilizing a service from one of these companies, but not all of their products are the correct or most cost-effective solutions for a law firm. We develop strategies that work for the firm's specific situation, rather than make them fit into our products or services," said Stratford.
Unlike most other Internet marketing firms, Integrity offers exclusivity to its clients, which means they will not work for their clients' competitors. Combined with transparent reporting, track record and "no long term contracts" policy Integrity has a truly unique service.
"One of the frustrations for law firms is that many Internet marketing companies require them to sign long term contracts, with no real guarantee of results. While we recommend long-term strategies for our clients, we do not make them sign long-term contracts. We earn their business every day, every week and every month rather than have them sign a contract," asserts Stratford.
With this approach, Integrity Internet Consulting is living up to the "Integrity" in its name.
###