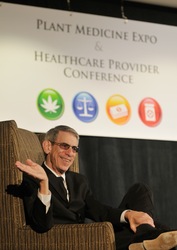 New York, NY (Vocus) September 29, 2010
Richard Belzer, Star of Law & Order SVU and cancer survivor moderated a successful heated debate at the TGI Healthworks produced first Plant Medicine Expo & Healthcare Provider Conference (PME/HPC) held at Denver's Sheraton Downtown Hotel on September 25 and 26, 2010.
Richard Belzer moderated the much buzzed about debate on Saturday, September 25th titled 'Medical Marijuana and the Colorado Amendment: What's Right for You?' addressing issues such as medical marijuana in the workplace, insurance treatment of medical marijuana, state vs. federal control, and host of policy issues raised by acceptance of medical marijuana at the state level. The A-list team of highly respected panelists involved in the controversial discussion consisted of the following:
Stan Garnett, Boulder District Attorney and candidate for Colorado's Attorney General seat
Charlie Brown, Denver City Councilman and author of Denver's medical marijuana ordinance
Tom Gallagher, Colorado Springs City Councilman and medical marijuana proponent of reasonable medical marijuana regulation
Joshua Kappel, Outreach Director of Sensible Colorado and recipient of the Patton Boggs Public Policy Fellowship and the Public Interest Law
"We're pleased about the medical marijuana debate discussion results at the Plant Medicine Expo & Healthcare Provider Conference as it provided an intelligent and sophisticated discussion that was interesting and informative for physicians, nurses, caretakers, patients and citizens in attendance. For those who missed the live broadcast, they will be able to view clips that will run soon on the PME/HPC website," states Seth Ginsberg, Co-founder of TGI Healthworks which organized Plant Medicine Expo & Healthcare Provider Conference.
The Plant Medicine Expo & Healthcare Provider Conference targets the uninitiated and under-informed patients and physicians who may be aware of medical marijuana as a potential treatment option, but who otherwise lack the understanding needed to make an educated determination on its appropriateness for their condition. For more information on the Plant Medicine Expo & Healthcare Provider Conference, visit http://www.PlantMedicineExpo.com.
About PME/HPC
The Plant Medicine Expo & Healthcare Provider Conference is a truly educational conference designed to provide individuals suffering from chronic medical conditions with comprehensive, objective information about medical marijuana. PME/HPC also provides insights and information to providers of medical marijuana and traditional healthcare providers who are curious about the medical marijuana option and process. Plant Medicine Expo in Denver is the first of several by TGI Healthworks that are being organized in states where medical marijuana is legal. For more information, visit the PME/HPC website: http://www.PlantMedicineExpo.com.
About Richard Belzer
Richard Belzer is an American stand-up comedian, writer, and actor, and currently is the star of Law & Order SVU. Belzer became the third person to play the same character in six different prime-time TV series, playing Detective "John Munch" in the NBC police drama series "Homicide: Life on the Street", "Law & Order" and "Law & Order: Trial by Jury", "The X-Files", "The Beat", and Law & Order: Special Victims Unit." Belzer has also starred in "Cheers", "St. Elsewhere", "The Tortellis", "Wings", "The Simpsons", and "Frasier." Belzer was diagnosed with testicular cancer in 1984 and has made a full recovery after a surgery successfully removed the tumor.
About TGI Healthworks
TGI Healthworks is an international educational firm created for physicians and patients. Since 1999, TGI Healthworks has been exclusively focused on education through national grassroots programs within the healthcare discipline that are designed to build and sustain communities of people with chronic diseases. Corporate office: 515 N. Midland Ave., Upper Nyack, NY, 10960, +1-845-348-0400. For more information, visit http://www.tgihealthworks.com.
In accordance with Colorado state law, no exhibitor will be able to dispense or display medical marijuana. The Sheraton Denver Downtown hotel is a non-smoking facility.
FOR MORE INFORMATION CONTACT:
Michael Hoog (local and regional media inquiries)
mhoog(at)corporateadvocates(dot)net
303-717-2410
Or
Tamara York (national (U.S.), and international media inquiries)
tamara(at)tamarayorkpr(dot)com
917-328-4408
Or
Visit our Website at: http://www.PlantMedicineExpo.com
###