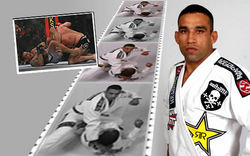 Los Angeles, CA (PRWEB) September 29, 2010
On October 2, 2010 at 1:00 p.m. PST celebrated STRIKEFORCE MMA star Fabricio Werdum will break ground by hosting the first-ever live MMA/Jiu-jitsu seminar. Broadcasted online via onlinefightchannel.com, the interactive web seminar will offer fight fans an exclusive opportunity to be instructed by one of MMA's top fighters.
Fabricio Werdum was catapulted into the national spotlight after a stunning sixty-nine second submission defeat of #1 ranked heavyweight and pound for pound MMA fighter Fedor "The Last Emperor" Emelianenko on June 26, 2010 in the main event at STRIKEFORCE and M-1 Global: Fedor vs. Werdum, live on SHOWTIME® from HP Pavilion in San Jose, Calif. Fabricio is currently ranked one of the top 3 heavyweight MMA fighter in the world. He is also a two-time Brazilian Jiu-Jitsu world champion, a two-time ADCC world heavyweight champion and European Jiu-Jitsu champion.
Fabricio invites fight fans and MMA/Jiu Jitsu enthusiasts to take part in the seminar. Students participating will have an opportunity to ask questions and have them answered in real-time by Fabricio. To participate, subscribe to http://www.onlinefightchannel.com. In addition to signing up for the seminar, you will receive a 30-day trial membership to access the site's video-on-demand content after the live event.
Seminar Topics Include:
-Control from the guard
-Arm bars
-Triangles
-Omoplatas
-Kimura
-MMA Open Guard
-Half Guard Sweeps
-and more
Don't miss this chance to be instructed by one of the top MMA stars in the world. For more information regarding Fabricio Werdum's live seminar, please visit: http://www.onlinefightchannel.com, or http://www.facebook.com/fabriciowerdum. For press inquiries, please contact Terrance Gillum at 818.205.8729 and/or terrance(at)abgpr(dot)com.
# # #