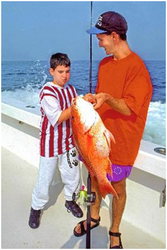 Gulf Shores and Orange Beach, AL (PRWEB) September 29, 2010
The federal government gave the fishing industry in the Gulf of Mexico new life with the announcement of a special red snapper season to run October 1 through the end of the day on November 21, 2010. For months, anglers and captains along Alabama's Gulf Coast have reported large numbers of red snapper holding on all the artificial reefs, both inshore and offshore, that they have checked diligently for fish all summer.
Captain Johnny Greene of the charter boat, "Intimidator," based in Orange Beach, Alabama, says, "The reefs are loaded with red snapper right now. Because of the oil spill out in the gulf, these reefs haven't had much fishing pressure all summer long. There are so-many snapper in the gulf that they're moving into the near-shore reefs. So, even 4- and 6-hour charters should be able to catch their limits of snapper this fall."
With the average size of the snapper on the reefs between 6 and 12 pounds, anglers will find an even larger number of snapper 12 pounds and over than ever previously.
"We should see a big number of 20-pound-plus red snapper landed during this special fall season," Greene explains.
During this special fall red snapper season, fishermen can catch and release red snapper all week and can begin to fish at 12:01 am on each Friday morning to catch red snapper to keep. Then they must return to port with their catches no later than 12:00 midnight on Sunday night. If a fisherman has booked a 2-day charter on a weekend, he or she can have a 2-day limit of snapper on-board.
Anglers also can catch plenty of other hard-fighting, tasty Gulf of Mexico fish during these snapper trips this fall. As Captain Troy Frady of the charter boat, "Distraction," reports, "We're seeing some really-big triggerfish, vermilion snapper, lane snapper and white snapper also out on the reefs. And fall is the best time to catch the really-big king mackerel and Spanish mackerel. Although the red snapper is the glamour fish of Alabama's Gulf Coast, these other fish are fun to catch and delicious to eat."
Dr. Bob Shipp, the head of the marine-sciences department at the University of South Alabama, says Gulf of Mexico fish are safe to eat. "The snapper stocks are very, very healthy. There should be no concerns at all about eating the fish. If a fish is healthy enough to bite a hook, he's healthy enough to eat. My colleagues and I have examined the livers of red snapper in this area, and they all appear healthy."
As one angler says, "The fish now being caught and eaten from the gulf have been tested and proven safe to eat with far-more scientific research than the fish we've caught and eaten before the oil spill. Thousands of fish have been collected, studied and looked-at under microscopes to make sure they're the best they can be for human consumption."
The more-than 7,000 artificial reefs off Alabama's Gulf Coast contain so-many fish right now, that anglers will have their rods bent on almost every stop where they drop-down to catch snapper. Plan a week's vacation this fall, and come to Alabama's Gulf Coast to fish for the many varieties available during this time of the year. Anglers at the Gulf State Park Pier in Gulf Shores, Ala., known as the longest pier on the Gulf of Mexico, are bringing speckled trout weighing 4-5 pounds each, plenty of flounder, sheepshead, bluefish, Spanish mackerel and king mackerel, often weighing 20 pounds or more, over the pier's railings daily.
The back bays and the Fort Morgan area along Alabama's Gulf Coast have experienced a bumper-crop of flounder this fall, with flounder from 4- to 6-pounds each and some even bigger being caught around the pilings, jetties and rocks and on the points of islands in the backs of the Gulf Coast's numerous bays. The speckled trout will start moving into Mobile Bay in large numbers at the first of October, and anglers will catch good numbers of speckled trout and redfish every day through the first 2 weeks of December. The legendary redfish at the nationally-known Dixey Bar at the mouth of Mobile Bay hold there year-round and will weigh from 12 to 30 pounds.
Make your plans now to come to Alabama's Gulf Coast for red snapper season on the weekends and highly-productive pier and back-bay fishing during the week. You can learn more by calling Gulf Shores & Orange Beach Tourism at 1-800-745-SAND (7263) or by visiting http://www.orangebeach.com/fishing.
###