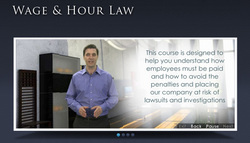 The most effective defense against Wage & Hour violations is a good offense
Norcross, GA (Vocus) September 30, 2010
Less than 20% of US employers are currently in compliance with the Wage & Hour laws they are subject to, according to the US Department of Labor. Obama's "new" DOL is now on a mission to enforce these laws, with new field investigators numbering into the hundreds and a focus on stopping what they term "wage theft."
This new focus has also opened the door to litigation, creating a nightmare for employers who must prove Wage & Hour compliance. Companies can be subject to class action lawsuits that penalize them for violating laws regarding overtime, breaks, off-the-clock work, and other FLSA requirements.
Labor Unions, with their faltering membership numbers, are also using these laws to file Unfair Labor Practices against employers, convincing employees that they are being treated unfairly, regardless of the truth of these allegations. This practice has helped many unions wage effective Corporate Campaigns in the public eye, damaging companies' reputations as well as their relationship with employees. In the end, Wage & Hour violations can lead to an entire workforce turning to a labor union to speak for them.
"The most effective defense against Wage & Hour violations is a good offense," said Walter Orechwa, CEO of Atlanta-based employee communication company, Projections, Inc. "Companies that take a proactive approach, educating employees and managers about what the FLSA requires, are far less likely to have to defend themselves in a Wage & Hour accusation or go to battle against a union because of it."
Projections' new Wage & Hour eLearning training was created in an effort to help employers overcome the threat of Wage & Hour violations. As the leader in employee communications, Projections offers multiple online Supervisory and Employee training programs, The company's new Wage & Hour eLearning program was crafted specifically to address the FLSA issues US employers are challenged with on a daily basis. The Wage & Hour training includes interactive exercises, video vignettes, graphics that reinforce concepts, and engaging narration, all designed to do one thing – create a memorable and powerful learner experience that helps employees remain in compliance.
Far from theoretical, Projections' new Wage & Hour eLearning provides the practical, enforceable compliance training companies need to avoid litigation, government involvement, and unionization. The training was also designed to be highly cost-effective, regardless of the number or location of employees trained.
A full-length demonstration of Projections' Wage & Hour training, pricing and additional information about this eLearning program can be found on the Projections website, at http://www.projectionsinc.com
About Projections, Inc.
Established in 1979, corporate America's leading provider of employee communication resources today is Projections, Inc. Working with hundreds of labor and employment attorneys nationwide, Projections has assisted thousands of companies in protecting themselves against third party involvement. Projections' multi-award-winning resources focus on critical issues such as onboarding, harassment, compliance, labor relations, and other employment-related issues. Headquartered outside Atlanta, GA, Projections' provides all production in-house with a full-time staff of writers, producers, editors, graphic designers, animators, and multimedia and web design personnel.
For more information on Projections, please visit their website at http://www.ProjectionsInc.com or call 877-448-9741.
###