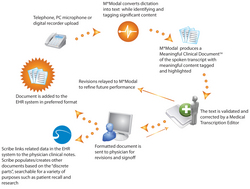 The new Direct2UScribe product builds upon M*Modal Technology to give clinicians a unique and flexible choice for the documentation of patient care.
Lake Forest, IL (Vocus) September 30, 2010
Scribe Healthcare Technologies, Inc., released today a new speech enabled product called "Direct2UScribe". Leveraging the market's leading Speech Understanding technology by M*Modal, Scribe now allows it's customers to deliver voice recognized documents directly to the dictating physician without requiring transcriptionist review.
The key to Direct2UScribe lies in the workflow. Medical transcriptionists work in the background to help create the physician dictation profiles. Once a profile is acceptable, speech recognized drafts are delivered back to the physician, bypassing the transcriptionist. The physician can make his/her own edits or simply click a button to have a transcriptionist make the edits.
Direct2UScribe delivers a number of important benefits:

Cost reduction
Speed, drafts are delivered within a few minutes
Flexibility
Medical transcription companies play an important role in this product's success. Initially they create the dictator profile. This saves the physician time. Ongoing they provide an additional set of eyes to ensure quality and assist with editing files that may require more work than a physician may prefer.
Medical transcription companies are able to resell this technology. According to Chris Scheppegrell, CEO of TransPortal "Rather than losing a customer to other front-end voice recognition solutions, we are able to sell a variety of products that allow us to maintain the customer. One size does not fit all. We offer a variety of solutions including service that helps to set us apart from our competition."
Delivered via a single platform that combines proprietary speech recognition, natural language understanding, and semantic inference technologies, M*Modal's Speech Understanding technology produces a CDA-formatted output and meaningful, structured information based upon the narrated input.
"The new Direct2UScribe product builds upon M*Modal Technology to give clinicians a unique and flexible choice for the documentation of patient care." said Michael Finke, CEO and Founder of M*Modal. "Through our partnerships with technology companies such as Scribe, we aim to provide sophisticated, flexible options that assist HIM professionals as they encounter a wide range of challenges related to clinical documentation and adoption of electronic health records."
About Scribe Healthcare Technologies, Inc.
Scribe Healthcare Technologies is a privately-held healthcare technology company based in the Chicago area. The company has developed a proprietary web-native platform that delivers medical documentation solutions that deliver physician narrated content to the electronic medical record. Scribe's platform includes complete solutions for dictation, transcription, voice recognition, document management, EMR-Lite, healthcare information exchange, and reporting with data analytics. Scribe offerings include both computer and mobile solutions.
Scribe serves more than 20,000 users. Business partners and resellers include consulting firms, transcription companies, and business process outsourcers. Additional information is available at http://www.scribe.com.
About M*Modal:
M*Modal, the market leader in advanced Speech Understanding technology, combines industry leading technology and clinical documentation services to produce highly accurate, structured, encoded and shareable medical documents to facilitate the adoptability and meaningful use of electronic health records. More than 800 healthcare organizations nationwide utilize M*Modal's solutions to increase patient safety and promote continuity of patient care. For more information, please visit http://www.mmodal.com.
###