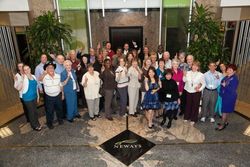 "This was an event to remember, and it has enriched all our lives," Jennifer Wolbers, vice president of sales and marketing, told Neways' independent distributors. "If you put into practice what you've learned, there will be no stopping your business."
Springville, UT (PRWEB) September 30, 2010
Neways North America held its annual Leadership Academy at corporate headquarters in Springville, Utah, from September 23–25. "This was an event to remember, and it has enriched all our lives," Jennifer Wolbers, vice president of sales and marketing, told Neways' independent distributors. "If you put into practice what you've learned, there will be no stopping your business."
Topics covered during the training event included the following:
Creating New Opportunities
The Art of Duplication
Critical Conversations
Cold Market Team Building
Attributes of a Good Leader
Pay Plans—Strengths and Weaknesses
Distributor leaders who gave presentations included Mardy Eger, Margie Aliprandi, Sunny Hand, Tim Howsden, and Yuka Sakurai. Neways featured an open mike on Friday evening for distributors to share how Neways has helped them with their health or finances.
During the event, two in-house Neways experts spoke about the evolution of Neways products: Kelly Bellerose, who serves as senior category manager of personal care, and Jamie Anderson, director of personal care product research. In addition, attendees heard from motivational speaker Kevin Hall. "What an amazing gift he was to all of us who had the privilege of listening to him," said distributor Michelle Rodarte.
The opening reception featured a Mardi Gras theme, and the Roaring Twenties–themed closing dinner gave distributors the opportunity to solve a murder mystery together. During the prize drawing, Neways gave away a laptop, car DVD player, car Bluetooth set, iPod, and digital camera.
Neways' next North America event will be the annual convention on board the Norwegian Dawn Caribbean cruise liner in April 2010. For more details about the upcoming convention, go to http://www.neways.com/usa.
About Neways
Founded in 1992, Neways is dedicated to helping families transform their homes into Healthy Homes. With dozens of safe, effective nutritional and personal care products that are free of questionable ingredients, the company strives to make the world a healthier place, one home at a time.
In addition to providing exclusive products, Neways enhances people's lives with a home-based business opportunity. About half a million active Neways distributors share the products in 28 countries, with nearly half of the company's annual revenues paid back to distributors as commissions.
Contact:
Megan Lavin
Neways International
2089 Neways Drive
Springville, UT 84663
801-418-2582
http://www.neways.com
###