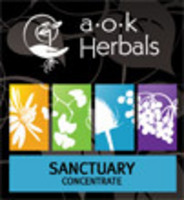 Brighton, MA (PRWEB) September 30, 2010
Savvy consumers know that commercial disinfectants contain strong chemicals that accumulate in our homes, workspaces, and ultimately in our bodies. They look for effective, safe and truly non-toxic natural household cleaners they can use every day. With this in mind, AOK Herbals formulated all new Sanctuary Concentrate, an all-purpose aroma-therapeutic surface cleaner that is plant-based, chemical-free, and wholly biodegradable. Sanctuary Concentrate contains a simple blend of organic essential oils that promote mental clarity, calm the nervous system, and discourage the growth of microbes—and smells exquisite.
Sanctuary Concentrate shines kitchen surfaces like granite and stone counters, windows and mirrors; and bathroom surfaces like tubs, shower curtains, floors and more. It's concentrated so customers can use it full strength for tough jobs like stovetops, or they can dilute it with water for lighter duty chores.
Sanctuary Concentrate does not contain bleach, petroleum distillates, phosphates, isopropyl alcohol, sodium laurel sulfate, or any other harsh or synthetic chemicals.
The folks at AOK Herbals know that most homes and workspaces are sanctuaries where perople create, think, relax, restore and breathe deeply. That's why AOK Herbals makes all new Sanctuary Concentrate. It's perfectly suited for everyday use in homes, nurseries, schools, and offices—wherever people and pets live, work and play.
Without compromise, AOK Herbals uses only the finest natural and organic ingredients. Never artificial. No harsh chemicals. Always Earth-friendly. Amazingly effective. For more about all new Sanctuary Concentrate, visit http://www.aokherbals.net/sanctuary/.
###