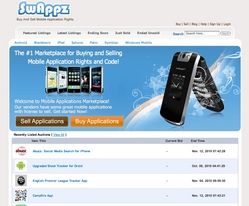 In a sense you are buying a business, a brand, a presence in the multi-billion dollar mobile application industryAdd a quote
Hampton, VA (PRWEB) September 30, 2010
Web entrepreneur and mobile application developer, Michael McCoy is pleased to announce the publication of his recently launched website, http://www.Swappz.com. Swappz is a great new website that provides mobile application developers a place to sell their entire mobile application codes and rights. There is no mobile app discrimination at Swappz where you can buy and sell ownership of mobile applications for IPhone, Android, Blackberry, IPad, Symbian, Windows Mobile, Palm, and more.
"I had a mobile application on both the IPhone and Droid platforms that I no longer had the time to market. When I went to sell my app to a new owner I was shocked to find that there was not a venue where I could promote and sell my entire application rights to a new owner."
Application developers are often to busy "developing" to properly market and advertise their amazing mobile applications. That leaves tons of great apps buried deep into the respective app stores waiting to be brought to light. Developers who do not have the time to properly market their apps, or simply would like to get out of the business can simply use Swappz to market and sell their mobile applications to buyers who are eager to get into the booming application industry.
Prospective buyers visiting Swappz will have the unique opportunity to purchase a fully developed and functioning mobile application. In a sense you are buying a business, a brand, a presence in the multi-billion dollar mobile application industry. The hard part of developing the app is done, simply work with the application seller to have the ownership transferred and then implement your marketing campaign to boost sales. Your new application will be sold across the world and has the potential to earn you a significant source of income. Like website owners who own multiple websites, some application purchasers may seek to become many moguls snatching up multiple applications all of which are generating revenue. Whether you choose to buy one or twenty, Swappz is the place to be.
To learn more about the mobile application industry or if you are interested in buying or selling a mobile application visit Swappz.com today.
About the Company:
Swappz.com is owned and operated by web entrepreneur Michael McCoy.
Mike McCoy
http://www.swappz.com
support(at)swappz(dot)com
# # #