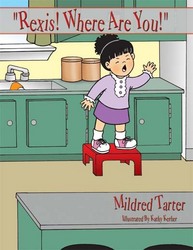 The series is not just a fun storybook
Newark, NJ (Vocus) September 29, 2010
Throughout reading and studying the various subjects of metaphysics, Mildred Tarter discovered that there were very few books written that are clear cut or precise enough for children to attain knowledge and understand, especially for pre-schoolers.
Tarter created Rexis! Where Are You! (published by AuthorHouse) as part of a series of books designed to help children as well as adults understand what metaphysics is all about and its significance in our lives. Children who are diversely gifted (mentally, physically, and spiritually) can enjoy reading about these characters and their characteristics which are also specially gifted. The book and series is meant to extend to all readers regardless of age.
"The series is not just a fun storybook," said Tarter. "It is intended as a self-help guide of sorts and an aid for the young ones to believe in themselves as strong achievers, as would it be for anyone who embraces it."
The story of Rexis! Where Are You! focuses on Alexis, a little girl who loses her cat, Rexis. Her friends assist her and readers with an introduction to the creativity of thinking; the nature of visualization; the power of writing; the importance in the use of colors and the magic of numbers. An excerpt from the book:
Quickly, she ran over to the counter where Rexis was sitting.
Not quite in the corner, but there, where she does knitting.
Alexis ran frantically throughout the kitchen, peering under stools.
She was sure he understood her. She was sure he knew all the rules.
She flew throughout the kitchen; she flew throughout the house.
And perhaps like Cinderella, she almost stepped on a mouse.
She looked like a loon.
She needed to find her Rexis. She needed to find him soon.
Readers of Rexis! Where Are You! can learn how to rely on themselves for problem solving and how to visualize using tools such as colors, numbers, etc. They can learn that they can visualize their creativity in recalling events and that they can do these things with or without these tools of manifestation, while teaching readers that everyone can be creative in achieving their goals.
About The Author
Mildred Tarter began her writing career in 2000. She began writing screenplays such as: "Cinderella From da Hood", "Sharks! Sharks of the Future" and "The Maddams". She began research in the studies of Metaphysics, where she focused deep interest in the connection between the Self and the Soul, the Laws of the Universe and the powerful use of its elements to achieve good things. Mildred currently lives in New Jersey.
AuthorHouse is a premier book publisher for emerging, self-published authors. For more information, please visit http://www.authorhouse.com.
###