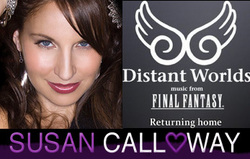 Susan Calloway sings "Answers", the theme song for the new game, Final Fantasy XIV.
Los Angeles, CA (PRWEB) September 30, 2010
It doesn't take much to notice the smooth velvet voice singing during the epic adventures in the popular video game known as, Final Fantasy. That voice belongs to singer/songwriter Susan Calloway. Years ago, Susan's voice caught the attention of Grammy Award winning conductor Arnie Roth and Final Fantasy composer Nobuo Uemtasu. The two were convinced Calloway's graceful yet powerful voice would be a perfect complement to the magical story of Final Fantasy Distant Worlds. Not only did Susan sing "Memoro De La Stona" on the first album, Distant Worlds: Music From Final Fantasy, but was asked again shortly afterwards to lend her voice for two other songs on the second album of compilations, Distant Worlds II: Music From Final Fantasy, on the songs "Melodies of Life" and "Suteki Da Ne."
The impact and grace of Susan's vocals, on the first three songs with Final Fantasy Distant Worlds, easily led to the decision to use her voice again to sing "Answers", the theme song for the new game, Final Fantasy XIV. The new game is scheduled for release on PC, today, September 30, 2010 while the MAC version is scheduled for release in March. You can get a sneak peak of the song here: http://jp.finalfantasyxiv.com/#/media/trailers/detail/aug2010
While Calloway has a strong background in the classical arts, do not let this blind you to her other innate calling as a singer-songwriter. Her voice has been richly described as having "the edginess of Pink combined with the socially conscious lyrics of U2, wrapped in a voice that gracefully explodes like Sarah McLaughlin, yet soothes the soul like Sarah Barailles". Last Fall, Calloway released her first EP Chasin The Sun which won 12 Detroit Music Awards, climbed to #37 on the R&R Charts, is now spinning on Top 40, Hot A.C., and Pandora Radio! The second single, "Don't Fall In Love" was recently nominated for the 2010 Hollywood Music and Media Awards for Best Adult Contemporary Artist. Her success has led her to song placements in popular T.V. shows like "Dawson's Creek," "Summerland", and "One Tree Hill." Chasin' The Sun perfectly exerts the soulful and inspirational person Susan is which should be no surprise since the EP was mixed, engineered, and produced by Gerard Smerek who has worked with soul singers like Anita Baker, Aretha Franklin, Donna Summer, and R. Kelly to the country metal blend of Kid Rock. Smerek's proven ability to direct the soundboard was a proper match to capture Susan's talent as a singer-songwriter, who truly writes all aspects of her music-- from lyrics, melodies, chord changes, harmonies, bridges, and arrangements.
Susan posses a great talent, but it is her passion that sets her apart. Believing that embracing the journey is just as exciting as reaching any destination, Susan has been chasing her dreams her whole life. Learning classical piano at age five and taking classical voice from the age of 12, she believed early on that "music is something that chose me more than I chose it." In grade school, she could sing words she didn't even know how to say. It is her love of music that has brought her this far, Susan says, "I want my music to contribute to the world in a spiritual, personal way… to help people look at their lives with hope and possibility, no matter what. I want my music to comfort and inspire people ...to encourage them to run hard at their dreams and goals. It's too easy to be mediocre ... Fusing my life and music to create great lasting art ... that's what it's all about for me."
Susan will be performing at the following FF Distant World Tour Dates:
*FINAL FANTASY: November 7, 2010 at 1:00pm-3:00pm, - DISTANT WORLDS: Tokyo JAPAN. Susan Calloway will be singing with the Kanagawa Philharmonic Orchestra and KEIO University ChoiR performs under the direction of Grammy Award winner Arnie Roth, conductor and producer of the Distant Worlds: music from FINAL FANTASY world tour.
*FINAL FANTASY: November 27, 2010 at 8:00p, - DISTANT WORLDS: Toronto, Canada. Susan Calloway will be singing with Kitchener-Waterloo Symphony, Nobuo Uematsu in attendance!
To listen to the album please visit:
http://itunes.apple.com/au/artist/the-jefferson/id348405729
For more information and tour updates please visit:
http://www.susancalloway.com
http://www.facebook.com/susancalloway
For Media Inquires: Please contact Amy L. Houck of 440 Artist Alignment at 310-461-3510 amy(at)440artistalignment(dot)com for more information.
###