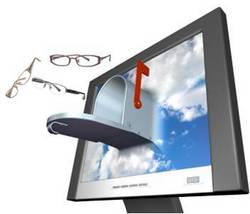 We released this information to arm the consumer with the information they need to get a good pair of glasses that are made correctly, fit well and look good.
Draper, UT (Vocus) September 30, 2010
With the recent influx of consumers turning to the internet to buy eyeglasses (there were 28 million Google searches on the term "eyeglasses" in 2009), there has been a parallel influx in websites that sell glasses online. Some do a really good job at delivering on the consumer's expectations, but many operate their eyeglass websites as a sideline business. The term "buyer beware" takes on a new meaning as there can be pitfalls when buying glasses online.
Since there is minimal regulation on these eyeglass websites, it is important for the consumer to be educated on what to look for when buying eyeglasses over the Internet. This educational white paper provides valuable information that will help guide consumers through the maze of online eyeglass shopping options and ensure they can have a pleasant experience when shopping for glasses online.
Bob Main, president of Web Vision Centers said, "We released this information to arm the consumer with the information they need to get a good pair of glasses that are made correctly, fit well and look good." He continues: " Buying eyeglasses online is convenient, a great way to save time and money, and get a wide choice of frames. You just need to know what to look for."
The free consumer oriented white paper is available by visiting WebVisionCenters.com or the eyeglass information blog at EyeglassInfo.com
# # #