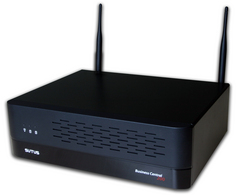 (PRWEB) September 30, 2010
SUTUS Inc., the company behind the SUTUS Business Central™, a single device that houses all the IT and communications needs for franchises, chains, small business or branch office announced today it has added a new fleet of features to its Business Central Solution. These features may be deployed across multiple locations, making it easier and more cost-effective for companies to manage their voice, data, and networking demands.
The new suite of features includes subscription services for advanced email security, access to the newly released SUTUS Connector, as well as phone system and network upgrades. Monitoring and management of a company's IT services across multiple outlets or offices is even easier with the addition of a fleet dashboard. The features allow for centralized messaging and reporting, as well as location-to-location calling, to expedite the flow of information and calls amongst various locations.
The Business Central Email Security subscription service is now available for complete email anti-spam and anti-virus security that offers a level of protection that is unmatched in the industry. Recent ROI research, estimates that spam costs employers as much as $1,934 annually for each worker, through loss of productivity. Additional hidden costs include those arising from IT personnel, software, hardware, and bandwidth consumed by spam.
Also available is the option to purchase the SUTUS Connector application, which includes click-to-dial (the ability to click a number in your outlook contacts and initiate a call), caller ID screen pop-up prompts (allowing the user to see who is calling on their PC screen) and Microsoft/Google Search (the ability to find contact details via search on the internet). The application also simplifies traditional search and call procedures. For users, it means less time spent searching, and more time engaging with current and prospective clients.
Martin Leonard, Vice President of Engineering, commented "remote management capabilities are a key focus for us. We are seeing that both our reseller partners and the businesses that use our offering are seeing the value in not only being able to remotely configure and deploy our solution, but remotely manage and lower the costs of day-to-day operations significantly."
New phone system features include multiple auto attendants, letting companies offer more flexible, client-friendly access and information options. The upgrade is even easier to use, offering straightforward company directory configuration as well as time-of-day features that allow businesses to notify customers about changes to operating hours, availability of personnel, or holiday closures.
New networking features like the email auto reply, out of office assistant, and email forwarding services allow businesses to remain consistent and responsive to customers at all times. Email inbox quotas are now at 16GB, more than twice the capacity of competing carriers. It also provides for easy system backup, making the system more secure and less cumbersome to manage.
"As our install base grows, we continue to listen and develop features our customers not only want but need", said Shawn Chute Executive Vice President Sutus. "We are seeing more and more customers with multiple locations adopt our product and we believe this release has several features that appeal to this market segment."
About Sutus Inc.
Founded in 2003 and headquartered in Vancouver, Canada, SUTUS is a leader in integrated small business communications technology and a member of the IFA (International Franchise Association). The company's Business Central device, which has won eight industry awards for innovation and product excellence, is an affordable, enterprise-quality solution that combines all the data, networking, phone and security features needed to power today's small office / small business. Made for companies with multiple locations with three to 25 users per location, this "small business-in-a-box" delivers big business solutions - including Internet, security and firewall router, switch, file storage, wireless access, VPN Server, phone system and email - at a small business price. It also serves as the backbone for all other essential small business tools, allowing alarms, security cameras, servers, and POS systems to "plug-in" and operate from the same device. Designed to be managed from the office, or from the road, it puts control of technology back in the hands of the business, saving time and money.
# # #