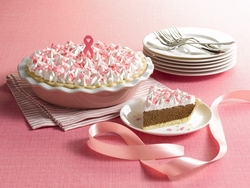 Significant advancements have been made over the past 30 years, but when someone in the world dies of breast cancer every 69 seconds, there is still much to be done
Denver, CO (Vocus) September 30, 2010
Joining the fight against breast cancer just got as easy as pink pie. From Oct. 1 to Oct. 31, Village Inn Restaurants, a division of American Blue Ribbon Holdings (ABRH), LLC, is supporting the nationwide effort of Susan G. Komen for the Cure®, the world's largest breast cancer organization, and pledging a minimum donation of $25,000 from the sale of Pink Ribbon French Silk pies™. The funds raised at each restaurant will help Komen for the Cure fund life-saving community outreach projects and ground-breaking research grants.
Quotes:
•"Each and every one of us knows someone who has been affected by breast cancer," said Jeff Guido, president of Village Inn Restaurants. "That's why Village Inn is proud to partner with Komen in the fight against breast cancer. We're sweetening efforts to find a cure with the help of one our Best Pies in America™, the pink ribbon French Silk pie, and at the same time, contributing to overall awareness of this serious health issue that impacts our customers, our employees and our communities."
•"Significant advancements have been made over the past 30 years, but when someone in the world dies of breast cancer every 69 seconds, there is still much to be done," said Katrina McGhee, EVP and chief marketing officer for Susan G. Komen for the Cure. "Komen and its corporate partners like Village Inn are working to put an end to this disease across the globe."
Core Facts:
•For every in-store or online purchase of the Pink Ribbon French Silk pie during the month of October, $1 will be donated to the Susan G. Komen for the Cure. In the first year of dedicating pie sales to support Komen for the Cure, Village Inn and Bakers Square (another division of ABRH) has committed a minimum donation of $25,000 that Komen will allocate across its local Affiliates.
•The Pink Ribbon French Silk pie is the company's traditional French Silk chocolate pie, the company's number-one selling pie, and features light and dark pink ribbon sprinkles.
•Consumers are encouraged to check the Village Inn Facebook page throughout the month to recognize a breast cancer survivor and share their Pink Ribbon French Silk Pie stories.
•To receive periodic text messages from Village Inn, text "pies" to 333222 for pie reminders. Message and data rates may apply.
•There are a total of 216 Village Inn locations around the United States.
Breast Cancer Facts:
•Every 23 seconds, someone in the world is diagnosed with breast cancer.
•1 in 8 women in the United States will be diagnosed with breast cancer in her lifetime.
•During 2010, about 207,090 new cases of invasive breast cancer will occur among women in the United States.
•There are about 2.5 million breast cancer survivors alive in the United States today, the largest group of cancer survivors in the country.
Interviews:
•Interviews available upon request.
About Village Inn Restaurants, Inc.
Headquartered in Denver, Village Inn Restaurants is a proven, award-winning company. Founded in 1958, Village Inn has 216 restaurants consisting of 130 company-operated restaurants and 86 franchised restaurants. Known for its strong breakfast heritage, Village Inn has been serving its signature breakfast items like one-of-a-kind skillet dishes and made-from-scratch pancakes for 50 years. In addition, Village Inn offers traditional American fare for lunch and dinner. Village Inn guests are served The Best Pie in America® including dozens of varieties of premium, multi-layer specialty pies. To find a Village Inn in your area, visit the Village Inn website at http://www.VillageInn.com.
About American Blue Ribbon Holdings, LLC
Headquartered in Denver, Colorado, American Blue Ribbon Holdings, LLC operates three restaurant concepts under proven and well-recognized brands, Bakers Square, Village Inn and Max & Erma's– as well as commercial baking subsidiary Legendary Baking. ABR Holdings has 338 restaurants in 29 states, consisting of 227 company-operated restaurants and 111 franchised restaurants.
About Susan G. Komen for the Cure®
Nancy G. Brinker promised her dying sister, Susan G. Komen, she would do everything in her power to end breast cancer forever. In 1982, that promise became Susan G. Komen for the Cure, which is now the world's largest breast cancer organization and the largest source of nonprofit funds dedicated to the fight against breast cancer with more than $1.5 billion invested to date. For more information about Susan G. Komen for the Cure, breast health or breast cancer, visit http://www.komen.org or call 1-877 GO KOMEN.
# # #