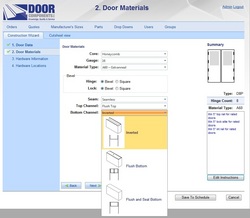 Our dealers had been asking us for an online system to make their business more efficient.
Fontana, CA (PRWEB) September 30, 2010
In a major step forward for the hollow metal door and frame industry, Door Components Inc. is launching a revolutionary new online order and quote request system. The software was developed by Door Components specifically to support custom orders of hollow metal doors and frames.
In this groundbreaking online system, orders can be placed and quotes requested 24 hours a day, seven days a week. Printed door schedules and door and frame cutsheets are automatically generated, giving the user a clear record of the order that can be saved as a PDF.
First-time users are guided by a step-by-step wizard that walks them through the order or quote request for a door or frame, while repeat customers can use the faster cut sheet view.
Door Components President Bob Briggs said, "We are pleased to introduce the first true online order entry and quote request system in the industry. Our dealers had been asking us for an online system to make their business more efficient. Now they can enter orders and quote requests any time they want, not just during our business hours. Also, every order generates a legible printed door schedule and cut sheet."
He concluded, "We have already programmed more than 150 door and frame rules into the system to automatically check each order as it is being entered. This will reduce ordering errors and speed up the engineering process. This system we are announcing today is only the beginning; it will keep getting better and better."
Use of the system is free of charge, and no registration is required. However, there are advantages to registration, which is secured by unique password. Company information is stored to the registered user, so it does not have to be re-entered each time the system is accessed.
Registered users can access their previous order and quote history at any time, allowing dealers to easily repeat or modify orders rather than starting each order from the beginning.
An online demonstration of the system and a login to place an order or quote request are both available on the homepage of the company website, http://www.doorcomponents.com.
About Door Components
Door Components Inc. is a leading manufacturer of custom hollow metal doors and frames, including stainless steel. Established in 1981, the Southern California-based company has perfected its Quick Quote/ Quick Ship system and can deliver custom product within days. Door Components, a member of the Steel Door Institute, sells its products nationwide through a dealer network. All products are made in California with 100% American steel. http://www.doorcomponents.com
###