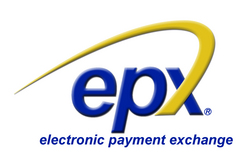 Wilmington, DE (Vocus) September 30, 2010
Electronic Payment Exchange (EPX), a full-service payment processing organization, will be exhibiting at the Healthcare Financial Management Association (HFMA) Central Ohio Chapter Autumn Institute in Wilmington, Ohio September 29 through October 1, 2010 and the Region 2 Fall Institute in Buffalo, New York October 13 through October 15, 2010.
The HFMA Fall Institute conferences provide high-quality education and networking opportunities to Healthcare Financial Management Association members and other individuals involved in healthcare financial management. The events are filled with educational programs and break-out sessions in multiple areas, including finance, revenue cycle, and healthcare reform.
Demonstrated by the strong presence of EPX Buyerwall-based payment solutions in hospital systems, rehabilitation centers, physician offices, medical technology organizations, and other healthcare facilities, EPX is committed to providing secure and cost-effective credit card, debit card, and electronic check (ACH) processing services to the healthcare community. With hosted payment processing solutions that use tokenization and encryption technologies, EPX enables healthcare facilities to reduce the scope of PCI compliance while providing their patients with proven, leading edge protection against payment data theft.
EPX's straight-through processing model streamlines healthcare operations by eliminating the need for multiple payment processing relationships, vendors, and contracts, and EPX's superior reporting and chargeback tools enable healthcare administrators to save time and costs while maintaining visibility into facility operations.
About Electronic Payment Exchange
Founded in 1979, Electronic Payment Exchange is the global, industry-leading provider of fully integrated, end-to-end payment solutions for merchants across all distribution channels. EPX offers a full range of payment processing services for leading merchants, retailers, etailers, and banks in the United States, Canada, Europe, Latin America, and the Caribbean.
EPX is a participating organization of the Payment Card Industry Security Standards Council. EPX is PCI v1.2 compliant, a VISA USA Cardholder Information Security Program (CISP) Compliant Service Provider, and a MasterCard Site Data Protection (SDP) Compliant Service Provider.
For more information about EPX, visit http://www.epx.com or contact EPX at 302-288-0600.
Contact:
Steven M. Kendus, Marketing Director
Electronic Payment Exchange
302.288.0600
###