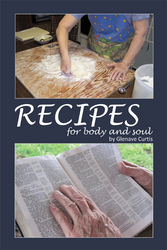 One of my greatest joys is cooking a meal for a table full of people
Judsonia, AK (Vocus) September 30, 2010
Glenave Curtis was raised on a farm where there was a true respect for both the Lord and nourishing but delicious meals. In her new cookbook, Recipes for Body and Soul (published by AuthorHouse), she shares her love of teaching cooking skills and her strong faith in God to all those who are eager to learn.
"One of my greatest joys is cooking a meal for a table full of people," said Curtis. "The object of this book is to integrate recipes for spiritual growth and recipes for physical growth and enjoyment."
Not intended for beginners, Recipes for Body and Soul features a wide variety of choices, from appetizers to baked goods all the way through to entrees and desserts. Curtis takes great care to provide every detail and helpful hint to ensure that readers following her recipes get the best results possible.
Each section begins with a preface of sorts, describing the spiritual aspect of the foods covered. Curtis shares bible verses and gives insight into how a particular food relates to the word of God. An excerpt from the book:
"My family derived much joy from the variety of visitors my mother and daddy invited into our home; I also gained knowledge from people in all walks of life. Because of this experience, it was natural for me to follow in their footsteps. I am very grateful for that heritage. Having folks in our home drew us closer in love and fellowship; and it is an excellent way of being good stewards of the things with which God has blessed us."
Recipes for Body and Soul certainly does not claim to be a book full of health-conscious recipes, but it does serve as a spiritually-healthy guide to filling both stomachs and hearts. For years, Curtis had the pleasure of entertaining friends and family with her special dishes; now it is her sincere wish to share both her cooking and her unshakable faith with readers everywhere.
About The Author:
Glenave Curtis was born in Senath, Missouri. She lived on a farm with her parents until deciding to college. She received her Bachelor of Science and master's in Education from Harding University. Glenave enjoyed teaching all homemaking skills, including foods and nutrition to high school students for twenty-six years. Previously, Glenave was a home-tester of recipes for General Mills. Teaching the Bible to ladies and teens has been an ongoing and fulfilling activity throughout her adult life. She and her husband of 57 years have enjoyed preparing food for and sharing fellowship with friends from all walks of life.
AuthorHouse is a premier book publisher for emerging, self-published authors. For more information, please visit http://www.authorhouse.com.
###