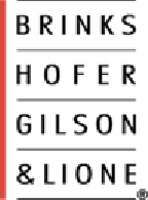 Many of the entrants in the competition are emerging companies or start-up operations, and Brinks' competition encourages their innovation.
Chicago, IL (Vocus) September 30, 2010
Intellectual property law firm Brinks Hofer Gilson & Lione has announced the three winners of the 2nd Annual Brinks Innovation Competition of the Midwest Clean Tech 2010 Conference, held at McCormick Place in Chicago on September 14-15, 2010. Midwest Clean Tech is a program of the Global Midwest Alliance.
Each of the three winners has developed a technology solution in clean technologies, or cleantech. Cleantech broadly encompasses development and improvement of environmentally sustainable technology related to energy efficiency, alternative energies, waste reduction and management and water reuse or conservation.
"Each of the five finalists in this year's Innovation Competition has a technology that either improves the productive and responsible use of natural resources, reduces the negative ecological impact or improves performance of an existing technology in a manner that is environmentally sustainable," said G. Peter Nichols, a shareholder at Brinks and co-director of the Brinks Innovation Competition.
The first-place winner is BioIonix, Inc., a Wisconsin-based manufacturer of advanced food safety disinfection and water reuse systems that eliminate pathogens from food products and permits the recycling of process water. President and CEO of BioIonix, James A. Tretheway, has extensive experience in early-stage, high technology businesses.
The second-place winner is Peoria, Illinois-based EcoThermics, which has developed the first
U.S.-made natural refrigerant compressor, an enabling component for high-efficiency, environmentally sustainable heat pumps.
In third place is Lumec Control Products, also based in Peoria, Illinois, which is developing and commercializing its dynamic orifice valve (DOV), a highly capable flow-control valve for low-pressure gas applications, such as natural gas combustion. Lumec's DOV delivers flow characteristics unavailable from competing valves.
The Brinks Innovation Competition helps companies that have breakthrough ideas in clean and green technologies to gain visibility and make connections with potential investors. Many of the entrants in the competition are emerging companies or start-up operations, and Brinks' competition encourages their innovation, prepares the companies to protect and market their ideas, and increases the visibility of their exciting ideas and technical solutions in the field of green technology.
Last year's finalists and winners were able to capitalize on connections and meet several investors who offered insights on how to get funding for their ideas. The competition is sponsored by Brinks Hofer Gilson & Lione in conjunction with the Midwest Research University Network. To learn more about the Brinks Innovation Competition, please visit http://www.midwestcleantech2010.com/?page_id=19.
About Global Midwest Alliance
The Global Midwest Alliance (GMA) is a not-for-profit organization that seeks to establish the Midwest as a globally-recognized leader in innovation and business growth. They help trail-blazing Midwest companies and entrepreneurs grow by leveraging existing resources to develop new products and find customers throughout the world. The GMA is the only business-led, region-wide organization dedicated to opening global opportunities for Midwest companies. For more information, visit http://www.globalmidwestalliance.org.
About MRUN
The Midwest Research University Network (MRUN) is an alliance of university business development professionals dedicated to facilitating growth of technology spinout companies through start–up formation. MRUN provides a forum for universities, investors and entrepreneurs to work regionally in pursuit of local venture formation. More information about MRUN is available at http://www.mrun.us
Brinks Hofer Gilson & Lione is one of the largest intellectual property law firms in the United States and serves the intellectual property needs of clients around the world. Brinks has more than 150 attorneys, scientific advisors and patent agents who specialize in intellectual property litigation and all aspects of patent, trademark and copyright law. The firm also advises on issues relating to intellectual asset management, trade secret, unfair competition, and technology and licensing agreements. Brinks routinely handles assignments for companies in the electrical, chemical, and mechanical engineering sectors; the biotechnology, pharmaceutical and nanotechnology industries; and for companies whose work relates to Internet and computer technology law. The firm's trademark practice works on behalf of clients who deal in a wide variety of products and services. Founded in 1917, Brinks is based in Chicago and has five additional offices across the country, including its new office in Washington DC. More information is available at http://www.usebrinks.com.
###