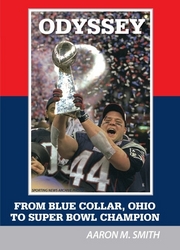 When I moved back to Cincinnati from California, I was interested in writing a book compiling several inspirational stories about area high school athletes
Cincinnati, OH (Vocus) September 30, 2010
In the world of professional sports, it's often that athletes are elevated to the roles of gods and heroes. Rarely do fans ever get to have a true picture of the humble beginnings of a champion, which is something that concerned author Aaron Smith. For Smith, it was important to share inspirational stories about athletes.
In his new book, Odyssey: From Blue Collar, Ohio to Super Bowl Champion (published by AuthorHouse), Smith explores the life of former NFL fullback Marc Edwards. From very humble beginnings in Norwood, Ohio, Edwards fought tooth and nail to be the first in his family to attend college - a goal he was able to realize playing for Notre Dame and legendary coach Lou Holtz – all the way through playing for the Super Bowl Champion New England Patriots.
"When I moved back to Cincinnati from California, I was interested in writing a book compiling several inspirational stories about area high school athletes," said Smith. "One of the athletic directors called me and said I should write about Marc Edwards. The more I talked to that athletic director, and the more I talked the Marc, I realized that his story should not be a part of a compilation."
Readers will be treated to an inside look at how Edwards was able to beat the odds, turning his fortunes around on the gridiron. By having total access to Edwards' story, Smith is able to present readers with amazing stories of life at every level of the game of football. They will also be able to look into the life of Edwards as a regular guy, someone who wasn't perfect, who didn't come from the most perfect of backgrounds. It's this method that Smith uses to connect fans to the athletes they love to watch every Sunday.
Odyssey: From Blue Collar, Ohio to Super Bowl Champion shows readers what it's like to play college football at a storied university and how Notre Dame coach Lou Holtz ran his practices outside of the media's eye. Smith also gives great insight into life in the NFL, sharing with readers stories of the NFL scouting combine, the draft and the rigors of training camps through the eyes of Marc Edwards.
This is a book that speaks to both fans of the game as well as everyday people who look for a little bit of inspiration from the most unlikely of places.
About The Author:
Aaron M. Smith, a graduate of Ohio University, was the recipient of numerous Associated Press Society of Ohio awards for his writing and reporting as a sports editor at the Port Clinton (Ohio) News Herald. Smith is a freelance writer and lives in Cincinnati with his wife, Chrissy, and his two young children, Sierra and Aidan. Visit his web site at http://www.aaronmsmith.com.
AuthorHouse is a premier book publisher for emerging, self-published authors. For more information, please visit http://www.authorhouse.com.
###