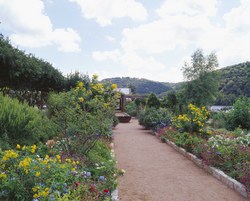 I never knew the amount of joy these two girls could bring to my life
Austin, TX (Vocus) September 30, 2010
There are more than 77.5 million dog owners in the United States and those who are lucky enough to live with a four legged friend or two know that pets provide unconditional love and companionship. But few know that owning a pet can also have measurable scientific health benefits for their owners, such as lowering blood pressure, reducing stress and even decreasing mild symptoms of depression by triggering the release of the hormone oxytocin. Renowned animal authority, Dr. Patricia McConnell, Ph.D.,CAAB, Ethologist and Certified Animal Behavioralist will offer insights based on scientific research into the power of pet ownership during Lake Austin Spa Resort's new "Celebrating Paws" pet program in Austin, Texas, February 2-6 and November 2-6, 2011.
To underscore the company's commitment to helping four legged friends, 100% of the pet fees collected in 2011 will be donated to Animal Trustees of Austin, a non-profit organization that is one of only a few of its kind in the country, providing free health care to animals in need. In addition, two pet-inspired spa treatments, the Four Paws massage and Bow Wow Peticure will be introduced in 2011 with partial proceeds benefiting the organization as well.
"We are excited to be a part of this new program at Lake Austin Spa Resort. The long-standing relationship between the Animal Trustees of Austin and the spa is something that we are very proud of. Choosing us to be the beneficiary of their program allows us to help even more animals in our community and we appreciate this generous gift very much," says Missy McCullough, Executive Director of the organization.
Pets hold a special place in the heart of the co-owner of the award-winning destination spa, Mike McAdams. The proud father of two rescue dogs had a revelation when he brought his first pet home from the Dallas Humane Society.
"I never knew the amount of joy these two girls could bring to my life," says McAdams of his dogs. "My family had pets growing up, but as an adult I only adopted my first pet a few years ago and I had no idea how it would change my life. Viv and Daisy are part of our family."
Dr. McConnell will lead informative discussions on the following:
-The Power of Pets: What Science Has to Tell Us About Our Love for Animals.
-Are You Thinking What I'm Thinking? What's Really Going On in a Dog's Brain?
-The Other End of the Leash: Understanding How to Communicate with Your Best Friend.
Additional pet experts participating in the program include Cara Shannon, JD, CPDT-KA, CAP1 and certified dog training expert who will lead hands-on classes in manners training and etiquette. Cara will also be available for private sessions. Susannah Charleson, author of Scent of the Missing: Love and Partnership with a Search and Rescue Dog, and her dog Puzzle are members of the Metro Area K9 Rescue in Dallas, Texas. They will demonstrate how we can use our human senses to understand a dog's gift of scent and to experience search-and-rescue from the dog's point of view and the handler's.
Other scheduled activities during the four-day pet program include a Yappy Hour (for pets and their parents), mat training, leave it training, canine massage and a custom photography session with your dog.
Dog lover and Spa Director Lynne Vertrees wanted to complement the activities with pup-inspired spa treatments. The new Four Paws massage focuses on human paws—the hands and feet. While the hands are massaged with warm lavender lotion, feet are cocooned with a lavender peppermint foot balm and wrapped in warm towels. Pressure points on the feet conclude this 50-minute service. The Bow Wow Peticure is a relaxing pedicure that is sure to soothe aching "paws". A relaxing "Dog Walk Soak" begins the 50-minute treatment, which also includes a bottle of polish to take home. A portion of the proceeds from both services will benefit Animal Trustees of Austin.
Guests are welcome to bring their house-trained adult dog any time, as the property has a select number of pet-friendly rooms with private outdoor spaces for their pooch to play. The year-round pet fee of $300 covers overnight essentials such as a dog bed, bowls, treat and a blanket for your beloved pet to snuggle in and take home with them. This fee will be donated to Animal Trustees of Austin throughout all of 2011.
Reservations are available by calling 800-847-5637.
ABOUT DR. PATRICIA MCCONNELL:
Patricia McConnell, Ph.D., CAAB is an Ethologist and Certified Applied Animal Behaviorist who has consulted with cat and dog lovers for over twenty-two years. She combines a thorough understanding of the science of behavior with years of practical, applied experience. Her nationally syndicated radio show, Calling All Pets, played in over 110 cities for fourteen years and her television show Petline played on Animal Planet for two and a half years. She is the behavior columnist for The Bark magazine (the New Yorker of dog magazines) and is Adjunct Associate Professor in Zoology at the University of Wisconsin-Madison, teaching "The Biology and Philosophy of Human/Animal Relationships." Dr. McConnell is a highly sought after speaker and seminar presenter, speaking to training organizations, veterinary conferences, academic meetings and animal shelters around the world about dog and cat behavior, and on science-based and humane solutions to serious behavioral problems. She is the author of thirteen books on training and behavioral problems, as well as the critically acclaimed books The Other End of the Leash (translated now into 14 languages), For the Love of a Dog and Tales of Two Species. Patricia lives with her Border Collie Willie, her cat Sushi and a very spoiled flock of sheep, and suffers from separation anxiety when she leaves them.
ABOUT ANIMAL TRUSTEES OF AUSTIN:
Animal Trustees of Austin serves the animals and the people of our community through compassionate, affordable treatment and respect for all.
For almost 20 years, Animal Trustees of Austin has provided safe, compassionate and affordable treatment for animals in our community regardless of their owner's income. The dedication and commitment of its staff, donors and volunteers has made Animal Trustees exactly the sort of place that animals and the people who love them feel fortunate to find. Unlike private veterinary clinics, services are offered close to cost including high quality spay/neuter services, wellness care, treatment for heartworm disease as well as special surgical and dental procedures. But perhaps what's most unique about Animal Trustees is the trust that gives them their name: The trust of the animals, the trust of their owners and the trust they have earned from the whole community.
Every year, Animal Trustees helps tens of thousands of animals who might otherwise go without, get the care and treatment they need whether that's spay and neutering, wellness care, routine dental care, heartworm treatment or special surgeries. We could not do the work we do without the unwavering dedication of everyone associated with Animal Trustees. We recruit and keep a staff who is absolutely passionate about the work that they do. Our loyal and tireless volunteers step in wherever there is a need to be filled whether answering the phones or holding hands with an owner. And for those requests that can only be met financially, our ever-widening pool of compassionate and generous donors are there for the animals.
ABOUT LAKE AUSTIN SPA RESORT
Nestled along the shores of scenic Lake Austin in the beautiful Texas Hill Country, Lake Austin Spa Resort offers guests the sanctuary of a world-class spa and the warmth of a best friend's lake house. Lake Austin Spa Resort offers all-inclusive vacation packages, which include accommodations in one of 40 charming lakeside guest rooms, three gourmet meals daily, indoor and outdoor fitness activities and classes, and a selection of spa and body treatments.
The resort has received numerous awards from prestigious national travel and spa magazines since its multi-million dollar renovation and expansion in 2004. Condé Nast Traveler, Travel + Leisure, Allure, the Zagat Survey, Health, Garden Design, SpaFinder Lifestyle, Spa Magazine and American Airlines' Celebrated Living magazine have recently honored Lake Austin Spa Resort as one of the best in the country and in the world.
For additional information and reservations, call 800-847-5637, or visit the website.
# # #