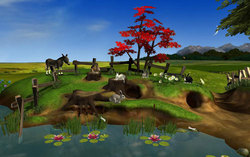 The Meadow draws a child into a vivid and intimate interaction with familiar animals and nature
Vancouver, BC (PRWEB) September 1, 2010
Little ones can now play safely on the computer with Clicktoy™ - The Meadow, a new game that brings nature to life on screen with 3D animation, sounds and music. To the delight of the child, each key makes animals move and interact, creates music, or changes the environment in this animated virtual pop-up book.
Clicktoy - The Meadow engages the parent and child in wholesome, interactive story telling using the latest in 3D graphics and film-quality animations. With no time limits, point systems, or structured play, players one and up can explore and experience each of "The Meadow's" natural environments at their own pace. Accompanied by original music and the sounds of nature, the child uses only the keyboard to navigate and interact with the lovable animals, nature, or create their own music. The ClickSafe technology protects the computer and files by eliminating the risk of players exiting the game and returning to the desktop.
"The Meadow draws a child into a vivid and intimate interaction with familiar animals and nature," says Ken Kavanagh, developer and president of Clicktoy Interactive. "Watching my son play with his animal toys inspired me to create something beautiful that other parents and caregivers would feel comfortable sharing with their children."
For ages one and up, Clicktoy "The Meadow" windows based computer game is now available for $20 USD/CDN in 16 different languages for immediate download illustrates how easily toddlers can navigate the game using just the keyboard. Additional trailers and game screen shots are also featured at http://www.clicktoy.com .
About Clicktoy
Kavanagh is an accomplished industry veteran with many game titles and software patents to his credit. He is a self-taught programmer that helped design EA's "The Sims Online" and "NBA Live 2007." In 2006 he saw an opportunity to create innovative entertainment for children and pursued the challenge himself with his company Clicktoy Interactive Inc.
Based in Vancouver, Canada, the company specially develops, produces and publishes toddler-appropriate software using the latest in graphics and real-time animation technology, safely turning any computer into a toy.
###