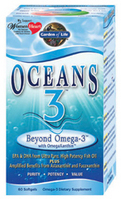 tested in FDA approved laboratories
West Palm Beach, FL (PRWEB) September 29, 2010
Garden of Life, (http://www.gardenoflife.com) a leading innovator in the Natural Products Industry, received an Approved Quality ranking for its Oceans 3 Beyond Omegaxanthin omega-3 soft gels following a review of fish oil supplements by independent testing organization ConsumerLab.com.
Tests of fish, algal and krill oil supplements revealed quality problems with nearly 30 percent of fish oil supplements selected for review, including three products that contained less of the omega-3 fatty acids and/or DHA than claimed as well as spoilage detected in three products, an enteric-coated product that released its ingredients too early, and a supplement for pets that exceeded the contamination limit for PCBs. Seventeen other products passed testing as did 15 products similarly tested through ConsumerLab.com's voluntary certification program.
"Supplements providing EPA and/or DHA are a great alternative to fish as a source of beneficial omega-3 fatty acids, as they typically have far fewer contaminants, cost less, and are more convenient to obtain. But products vary in quality, strength, odor-reduction, and price, so you need to choose carefully," said Tod Cooperman, M.D., ConsumerLab.com's president.
Consumption of EPA and DHA appears to reduce the risk of coronary heart disease and may be helpful in the treatment of rheumatoid arthritis, other inflammatory diseases, and psychiatric illness.  EPA and DHA may also reduce the risk of certain cancers and macular degeneration. Fish oil supplements are given to pets to help maintain their coats and skin. U.S. sales of fish oil supplements in 2009 were $976 million, up 20% from the prior year, according to Nutrition Business Journal.  A recent survey by ConsumerLab.com showed that fish oil had become the most commonly used supplement among people who regularly use supplements, exceeding, for the first time, the use of multivitamins.  Seventy four percent of respondents reported using a fish oil supplement.
In addition to the products reviewed, two krill oil ingredients by Enzymotec USA have been tested and approved for quality through ConsumerLab.com's Raw Materials Testing Program.
ConsumerLab.com reported these additional, notable findings:
-Labels on some products included terms such as "pharmaceutical grade" and "tested in FDA approved laboratories," which are meaningless as there is no basis for either claim.
-A krill oil supplement that failed for both spoilage and low omega-3 levels claimed to be quality assured under GMPs (good manufacturing practices). Another "krill oil" supplement contained more fish oil than krill oil.
-Most products met ConsumerLab.com's strict contamination limit for dioxin-like PCBs of 3 picograms per gram (3 parts per trillion). However, one product (a pet supplement) slightly exceeded this limit with 3.14 picograms per gram. However, this exposure is still very small compared to that from fish meat -- a small serving (3 ounces) of fatty fish such as salmon may easily provide 170 picograms of dl-PCBs as well as a significant amount of mercury. Trace amounts of dl-PCBs were found in all supplements, despite claims on some of being free of contaminants. There was no detectable mercury in any of the supplements. 
The cost to obtain 100 mg of EPA and/or DHA from fish oil ranged from about 1 cent to 15 cents among fish oil supplements, and was about 30 cents from krill or algae oils. A fairly standard daily dose of 500 mg of EPA + DHA from a quality-approved product could be had for as little as 6 cents.  Higher prices were not associated with higher quality.
-Concentrations of EPA and DHA ranged from less than 20% to over 80% of the marine oil content listed on front labels -- which is why consumers should specifically look for the amounts of EPA and DHA which typically appear on side labels.
ConsumerLab.com's report is now available online to its members.
Garden of Life's four other Oceans 3 products (http://www.Oceans3.com), which were not tested by ConsumerLab.com for this review, include Beyond Omega-3 Cod Liver Oil, Better Brain, Healthy Hormones and Oceans Kids™ DHA Chewables. Garden of Life says that all of the formulas exceed industry standards for purity through proprietary PureMax™ technology, resulting in ultra pure fish oil with a fresh taste, no fishy repeat and no lingering aftertaste.
Garden of Life, LLC (http://www.gardenoflife.com) is a brand of Atrium Innovations Inc., a recognized leading developer, manufacturer and marketer of professionally endorsed, science-based products for the health and nutrition industry. Garden of Life donates a portion of the proceeds from every bottle sold of Beyond Omega-3 and Healthy Hormones to WomenHeart (http://www.womenheart.org), an organization that champions prevention and early detection of women's heart disease. For every Oceans Kids bottle sold, a donation is made to Vitamin Angels (http://www.VitaminAngels.com) while the National Parkinson Foundation (http://www.parkinson.org) benefits from Better Brain sales.
ConsumerLab.com is a leading provider of consumer information and independent evaluations of products that affect health and nutrition. The company is privately held and based in Westchester, New York. It has no ownership from, or interest in, companies that manufacture, distribute, or sell consumer products.
Contact: Rhonda Price (561) 371-9407
rprice(at)gardenoflife(dot)com
###