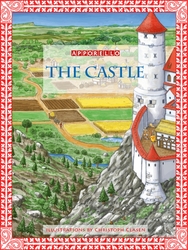 A brand new kind of reading experience.
New York, NY (PRWEB) September 22, 2010
The actionboox "The Castle" hits the spot for small and big friends of the Middle Ages. The user blazes his trail through a vast variety of information on a continuous screen. A vivid panorama unfolds before his eyes, which is accompanied by lots of sounds, a reader´s mode and suiting illustrations and images – creating a small piece of art.
Plenty of in-depth information playfully transferred and true-to-detail – this is what we call actionboox. "The Castle" is knowledge everyone strives to acquire.
About zuuka!
We have acted as a strong and reliable partner for publishing houses for many years and have brought various books and characters to life by using our global audio network. Audio books and soundscapes, musicals and film scores or voice-over recordings in more than 40 languages – we offer fullservice in-house production. Consulting, design and programming round off our offer in iPad development (especially in the children's sector).
Susanne and Dirk Busshart, the founders of zuuka! are married and have two kids: Simon (10) and Jacob (7).
actionboox by zuuka!
Follow us on Twitter and Facebook!
###