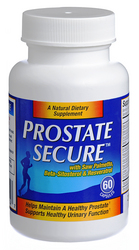 Science has proved that adjusting diet and consuming prostate friendly ingredients, like Saw Palmetto, beta-sitosterol and vitamin D3 may provide increased protection from prostate disorders and related health issues.
Pompano Beach, FL (PRWEB) September 7, 2010
Men seldom talk about health problems, particularly where the nether region is concerned. This male pride means reproductive system complications quite often go untreated and conditions worsen beyond repair. As men age, the prostate becomes increasingly susceptible to health problems and therefore requires vital ongoing care. To help protect against prostate deterioration and related health issues, Axum Labs LLC has designed a revolutionary Saw Palmetto (Serenoa Repens) dietary supplement named Prostate Secure to promote a healthy prostate on a day-to-day-basis.
An increasing number of men are suffering from benign prostatic hyperplasia (BPH), an enlargement of the prostate which can cause painful, inconvenient and often embarrassing symptoms. A general neglect of the prostate and the development of BPH can be identified by incontinence, painful and incomplete emptying of the bladder, waking several times in the night to urinate, reduced libido and sexual dysfunction.
The most commonly known medical issue surrounding the prostate is prostate cancer, a potentially fatal condition. Prostate cancer accounts for around 25% of cancer amongst men, and a man whose father or brother developed prostate cancer is approximately 1.5 to 3 times more likely to develop the disease than a man from a family without a history of prostate cancer.
But it isn't all doom and gloom. Science has proved that adjusting diet and consuming prostate friendly ingredients, like saw palmetto, vitamin D3 and resveratrol will provide increased protection from prostate disorders and related health issues. And this is where Prostate Secure is set to change the life-course of men, globally.
Prostate Secure not only harnesses the vital ingredients required to maintain a healthy prostate but causes no known bodily side effects for the user. Containing beta-sitosterol and saw palmetto, known for their effective treatment of BPH and related symptoms, coupled with pygeum extract to alleviate discomfort and lycopene and selenium which are powerful antioxidants targeting the prevention of cancer, Prostate Secure aid in the maintenance and longevity of a healthy and youthful prostate.
This fusion of positive prostate boosting utensils doesn't stop there. Further essentials are added to what can only be described as an all out assault on an unhealthy prostate. Vitamin E protects cells and tissues whilst vitamin D3 improves general health and assists in reducing the risk of prostate cancer. Zinc is included due to its important role in the prostate and in overall immunity. Grape seed extract seeks to eliminate potential prostate disorders and prostate cancer and lastly resveratrol which may act as a potential adjunctive treatment for prostate cancer.
Increasing health is usually an expensive habit, but Prostate Secure is available for as little as 70 cents per day. When considering the potential health problems associated with the prostate this is extraordinarily inexpensive.
Prevention is always more efficient than cure, and all sexually mature males should be taking measures to maintain a healthy prostate as they come of age. However, it is never too late to start boosting the well-being of your prostate - Prostate Secure provides a financially accessible solution to prostate maintenance for men of all ages.
For further information on Prostate Secure go to http://www.prostatesecure.com
About Prostate Secure
Prostate Secure is a potent scientifically formulated blend of natural ingredients that has been demonstrated to support good prostate health and urinary function. It is a dietary supplement for men. Now, men have the power to take control of their prostate health without the risk of side effects.
About Axum Labs LLC
Axum Labs LLC is focus on developing and marketing new and innovative natural health and beauty care products. Our superior products are manufactured using high quality, pure and effective ingredients.
###