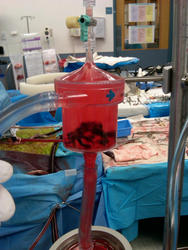 Norwell, MA (PRWEB) September 15, 2010
The Vortex Medical Inc AngioVac Cannula is intended for use as a venous drainage cannula during extracorporeal bypass. Standard surgical or percutaneous insertion techniques can be employed.
The AngioVac Cannula has a balloon-actuated, expandable funnel-shaped distal tip to facilitate flow as well as to faciltate en bloc removal of undesirable intravascular material during the performance of extracorporeal circulation.
The AngioVac cardiopulmonary bypass circuit is intended for use in procedures requiring extracorporeal circulatory support for periods of up to six hours. The AngioVac Circuit aspirates and reinfuses blood while maintaining hemodynamic stability. The tubing, pump, filter and other components provide suction within the vein, capture undesirable intravascular material, and reinfuse the filtered blood.
The comprehensive Angiovac Cannula facilitates en bloc removal of undesirable intravascular material such as clot, thrombus, tumor and vegetation while maintaining hemodynamic stability through its continuous reinfusion of blood.
# # #