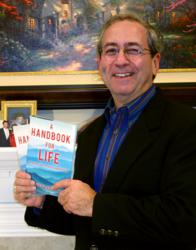 At times, we all wish that life came with an instruction manual. This refreshingly positive approach is based on sound principles, widely applicable, and yet simple enough to follow. It's certain to make a difference in many lives
Charlotte, NC (PRWEB) January 05, 2010
Rich London announced the release of his new book "A Handbook for Life" based on his successful seminar series of the same name. In his seminars, Rich helps others overcome obstacles and set meaningful goals in their lives. "A Handbook for Life", the book, is designed to provide Rich's proven principles in an easy to follow format.
"At times, we all wish that life came with an instruction manual. This refreshingly positive approach is based on sound principles, widely applicable, and yet simple enough to follow. It's certain to make a difference in many lives," said Dr. Yogesh K. Patel, Chair, Board of Directors, Parkinson's Association of the Carolinas, who attended the first seminar preview.
London, who has seen his share of adversity, refuses to let life's circumstances control him. He has survived cancer, multiple surgeries from an automobile accident, and Parkinson's disease. He has done it by living the concepts and ideas that he shares in the new book.
In spite of the health challenges, he built several computer companies and is an active real estate investor. He has earned his third degree black belt and his commercial pilot's license. London has also received numerous awards for his efforts as a volunteer search and rescue pilot for the Civil Air Patrol (USAF Auxiliary), where he holds the rank of Major.
Rich says, "Life is a test. It's a test of perseverance, a test of faith and a test of will. I'VE DECIDED TO PASS THE TEST."
The Book is on sale at his new website at http://www.AHandbookForLife.com as well as most of the major book re-sellers.
###