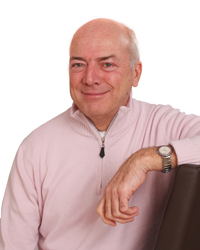 If life is treating you well, you may feel great. If life is hard or you are ill, or find yourself struggling, then you may not feel very healthy and happy.
(PRWeb UK) October 7, 2010
In a recent interview, Mike Robinson, author of the number one bestseller 'The True Dynamics of Life', explained a technique for healing oneself of illness. He gave the example of how he healed himself of the physical and emotional pain he suffered from being abused in the children's home where he was brought up. Mike gave the details of a technique called 11/22's which can be used to bring thoughts to the surface, and because thoughts are connected to emotions and pain, as the thoughts come out the old pain can come to the surface to be healed.
The process of 11/22's involves writing a sentence, which is a positive statement, and watching the mind react by throwing out all it believes about the sentence, and why that positive thing is not happening in life. Mike says, "For example, I may write, 'I am healthy and happy', but my mind would churn out all the reasons why I am not healthy and happy. If I write these reasons under the sentence, until my mind slows down, and then repeat the sentence again and again, the mind will react with yet another set of reasons."
The positive sentence and the mind's response to each, needs to be written twenty‐two times, in one sitting, for eleven consecutive days.
This is not a mantra, or a positive affirming exercise, it is process of finding out the root cause of why there is a lack of, for example, health and happiness in life. It is a process for revealing all the thoughts which often run unconsciously across the cortex of the brain. Mike continues,"You can see this in action when someone pays you a compliment. They may say, 'You are looking really well'. Immediately, your mind reacts and you either reject the compliment, by stating all the reasons why you do not actually feel great, or you accept it, and tell them all the reasons why you feel great is due to something or somebody else.
"If life is treating you well, you may feel great. If life is hard or you are ill, or find yourself struggling, then you may not feel very healthy and happy."
Each time a person speaks their words will be bringing forth a reaction from the mind. This reaction is a person's beliefs, past and conditioning. The 11X22's exercise is to be used as a tool in aiding the emptying of the memory banks. To be aware and observant of oneself listening to the words of another can also do the same thing.
In explaining how this process works Mike gave an example in the interview of how he was abused in the children's home he was brought up in. This experience was stored as a negative memory and so he suppressed it. When doing the 11/22 exercise the whole memory and feeling of the abuse came to the surface, was released and able to be healed because he observed it without seeing it as positive or negative, but simply observed it. Observation without judgement healed it. Mike says, 'If we can heal ourselves by observing ourselves without judgment, then we should be able to heal the world too!'
The extract of the interview on Mike's experience of healing himself can be heard here
The full hour long interview can be heard here
Further information about Mike, his work and the opportunity to join his membership area for monthly workshops, audio downloads and support can be found on Mike's website
The True Dynamics of Life is available for sale online at Amazon.com, from Mike Robinson's website and other outlets.
About the Author
Mike Robinson is a writer and personal development teacher dedicated to sharing his understandings. Brought up from the age of 3 months in a children's home in absolute suffering, then put out into the world at 16 yrs with only the clothes he stood up in and no understanding of how the world worked, he spent many years observing his own and others pain until he found a solution. He has since spent the past 35 years travelling the world in an effort to help people recognize the truth and understand love in action. A father of three, Robinson resides in North Walsham with his family.
Review Copies and Interviews Available
###