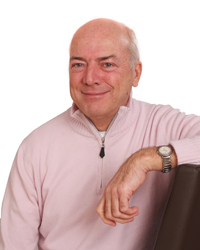 Humanity needs to know the truth of what is really going on because the illusion is killing us.
(PRWeb UK) October 21, 2010
In his recent number one bestselling self-help book, 'The True Dynamics of Life', Mike Robinson looks at the source of conflict in the world. He concludes it is necessary to find peace within oneself before there can be peace in the world as 'You are the world and the world is you and only you can make it whole'. The majority of humans are living from their individual egoic mind and very few can live fully from the inner voice and this is what is causing chaos, conflict, pain and deep confusion. Very few people realise that the solution is inside of them, and most people look only to the external for the answer. Thus lessons from the past are rarely learnt, history keeps repeating itself, and pain and suffering continue, both individually and globally.
There are three traps in humanity which bind humans to the suffering and chaos of this planet. Mike Robinson asks, 'If you knew what these traps were and you had the tools to free yourself from the demands that they make on you physically, emotionally, mentally and spiritually, your perception of life would change, and fear would no longer have control over you'
These three traps are responsible for all the wars, greed and separation between one human and another.
In 'The True Dynamics of Life' Mike Robinson uses words as a trigger to take the individual on an inner journey to realise the truth for themselves. He leaves nothing hidden, and the forces that govern this planet and all material life are revealed.
Mike Robinson says, "Humanity needs to know the truth of what is really going on because the illusion is killing us."
There is further information about Mike Robinson's work, as well as the opportunity to join his membership area for monthly workshops, audio downloads and ongoing support, by going to his website
The True Dynamics of Life is available for sale online at Amazon.com, from Mike Robinson's website and other outlets.
About the Author
Mike Robinson is a writer and personal development teacher dedicated to sharing his understandings. Brought up from the age of 3 months in a children's home in absolute suffering, then put out into the world at 16 yrs with only the clothes he stood up in and no understanding of how the world worked, he spent many years observing his own and others pain until he found a solution. He has since spent the past 35 years travelling the world in an effort to help people recognize the truth and understand love in action. A father of three, Robinson resides in North Walsham with his family.
REVIEW COPIES AND INTERVIEWS AVAILABLE
###