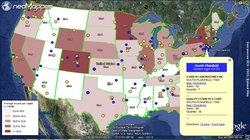 Geomarketing is the cornerstone of successful businesses in this age of digitalization and quickly changing markets.
Bethesda, MD (PRWEB) October 21, 2010
GE-Data, a technology company specializing in geo-spatial technologies and geomatics, announces the release of its revolutionary geomarketing product, neoMapper.
neoMapper is a geomarketing/georeporting tool that harnesses the power of Google Earth to provide real-time and interactive maps of market data, facilitate marketing strategies and decisions and bring business data to life.
Simple to integrate and easy to use, neoMapper converts customer information into a portfolio of visual data maps that provides a graphical representation of any business. neoMapper is an embedded application that easily and seamlessly integrates with Customer Relationship Management (CRM) and Enterprise Resource Planning (ERP) systems to create a stunning array of maps that allows businesses to clearly visualize opportunities and maximize resources. By geolocating contacts (customers, prospects, suppliers, vendors, competitors, etc.) and cross-referencing them with market, socio-economic and other trend data, crucial information is consolidated and presented in the form of smart maps.
In announcing the release of neoMapper, Co-Founder and Chief Technology Officer Daan van Setten, said, "neoMapper has the ability to transform how small to medium-sized businesses manage their sales and marketing activities. By replacing the old fashioned wall maps of the past with powerful geomarketing tools, companies can now take full advantage of the data contained in their CRM, ERP or Excel/database files to maximize sales and marketing resources, identify market opportunities and increase business productivity - all at a fraction of the cost of custom-designed systems."
Popular uses for neoMapper are: organizing and optimizing field visits and business trips, monitoring and managing a sales force, identifying optimal locations for expanding a sales network, reducing direct marketing costs and enhancing communications with colleagues.
neoMapper is perfect for SMBs, or CRM/ERP users (both individuals and companies). It is available in three versions including:

neoMapper Standard: a stand-alone version that can be downloaded from the neoMapper website and interfaces with any contact database. This version is offered at an introductory price of only $99.00 per user.
neoMapper Integrated: a fully-embedded version for CRM/ERP applications. Using the neoMapper Integration Kit (included), CRM/ERP software editors can easily enhance their product offerings with a revolutionary geomarketing module.
neoMapper Custom: a fully-customized version configured to specific needs. This option provides more detailed analysis and mapping data.
About GE-Data
Launched in March 2006, GE-Data specializes in geo-spatial technologies and geomatics. These technologies, based on a combination of geography and computer science, include all tools and methods to capture, represent and analyze geographic data.
GE-Data has developed and pioneered the KMLizer technology, which allows users to model and automate the creation of dynamic, interactive and informative Google Earth maps. KMLizer technology is the core engine of all neoMapper products for geomarketing. KMLizer technology is also used for agriculture, environment, tourism and territorial development applications.
GE-Data has offices in France (Bidart and Toulouse) and in the USA (Bethesda, MD).
For more information, visit the neoMapper website or email to info(at)ge-data(dot)com
Pictures and documents free of rights available on demand.
# # #