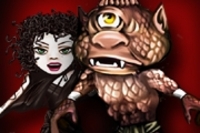 From monsters to dinosaurs, my two young boys were the inspiration for these fun and engaging game & entertainment apps!
San Diego, Calif. (PRWEB) October 28, 2010
Just in time for Halloween, RapDevPro – a premier mobile-and-web app developer – today announced an extensive set of creature-based apps for iPhone, iPad, and Android, including ones with monsters to ring in your Halloween festivities. The most recent releases include MatchMonsters, a fun, card-based memory-matching game for both iPhone and iPad. With three difficulty modes, 27 colorful monsters across six achievement levels, and fantastic monster sound effects, MatchMonsters offers hours of game play. When you reach achievement levels, new monsters get released with fun voice-over narration like, "Release the Kraken!" The iPad version, MatchMonstersHD, adds a two-player mode with two different game set-ups, including one with exciting head-to-head action. The paid versions of the apps are 99 cents and there are also free versions that contain ads. Get the MatchMonstersHD iPad Game on iTunes.
"This is just the beginning of an extensive line of apps we have planned that use a variety of the worlds' creatures, both real and imagined," said Randy Ullrich, Founder and CEO of RapDevPro. "I have two young boys, and seeing the world through their wondrous eyes was the inspiration for Creatureary. The apps will mostly be game or entertainment apps, but some will contain educational features."
To learn about the monsters in the matching game, RapDevPro offers Monsterary, an entertainment and education app where users can learn about monsters, hear the sounds they may have made, mutate them to create unusual new creations, and adopt and personalize monsters or mutations. Monsterary is available for 99 cents on both iPhone and Android. RapDevPro also offers MonsteraryHD for 99 cents, a version of Monsterary designed specifically for iPad. Not satisfied with just monsters, RapDevPro also offers dinosaur-based apps called Dinoary across iPhone, iPad, and Android. Get the Monsterary App on iTunes. Get the Dinoary App on iTunes.
"Beyond monsters and dinosaurs, we are working on apps that feature many other creatures," added Ullrich. "We are also working on some other cool new games and entertainment apps with the creatures, with over 100 Creaturary-based titles coming over the next year."
In addition to Creatureary, RapDevPro offers iTwitSports, a Twitter-client optimized for tweeting about sports. In addition to being a solid Twitter client, the app also offers picture uploads from the camera or album, access to a large set of sports hashtags, and a slick Quick Words feature where users can store and quickly access commonly-used sports phrases, for example, "It's in the hole!" iTwitSports is currently available in both 99-cent and free versions on iTunes. Versions for Android and iPad are coming soon. Get the iTwitSports Twitter Client on iTunes.
Beyond Creatureary and iTwitSports, RapDevPro is also working on several other apps, mostly in the games and entertainment categories. "We have a phenomenal team of designers, creatives, and developers, and we're all having a blast developing apps. By leveraging both off-shore and on-shore talent, we can rapidly develop these apps and bring them to market," remarked Ullrich.
In addition to incubating and developing their own apps, RapDevPro helps other businesses conceive, design, and develop their apps, and recently started working for a client on a health and fitness app. "We apply our same proven methodology for app development to all of our client work," added Ullrich.
About RapDevPro
Launched in late 2009, RapDevPro (Rapid Development Productions) is a premiere mobile-and-web app incubation, development, consulting, and advisory firm. Founded by software executive, Randy Ullrich, RapDevPro develops mobile applications across iPhone, iPad, and Android, and also produces web apps using many different open-source technologies, including Wordpress, Magento e-Commerce, Drupal, LAMP stacks, and PHP frameworks. Please visit http://www.RapDevPro.com for more information.
###