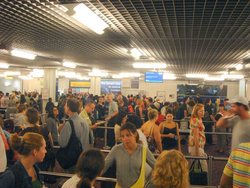 These measures are designed to be unpredictable, so passengers should not expect to see the same thing everywhere.
New York, NY (Vocus) December 31, 2009
Since Northwest Flight 253 was threatened on December 25th by a passenger carrying explosives, the United States Transportation Security Administration (TSA) and many international governments have imposed confidential air travel security measures that will impact travelers around the world.
Travel publisher FamilyTravelForum.com alerts all holiday travelers, especially families with young children who may be carrying gift items, to be prepared for the enhanced and possibly invasive security procedures. As Department of Homeland Security Secretary Napolitano has cautioned, "These measures are designed to be unpredictable, so passengers should not expect to see the same thing everywhere."
FamilyTravelForum.com reports there are 10 facts travelers should know.
-- Enhanced security precautions are in place at all international airports with flights to the U.S.
-- Passengers must arrive especially early for any international flight as enhanced security on U.S. Bound flights is affecting all travel times.
-- All carry-on bags are being subjected to extra security screenings, causing delays at security gates.
-- The Canadian government has banned all carry-on bags for passengers traveling to the U.S. because new screening requirements are causing excessive delays. Only exceptions are purses, cameras, coats, laptops, musical instruments, medical devices and items for baby care.
-- TSA urges all travelers to check as much carry-on baggage as possible but says that items such as car seats will be accepted on board flights.
-- Alaska Airlines and Horizon Air are both waiving some baggage fees for the mandatory checked baggage on flights to the U.S. from Mexico and Canada.
-- According to the TSA, all passengers regardless of age (including minors and unaccompanied minors) will be subject to additional screening if selected at random or if circumstances warrant.
-- Secondary passenger screenings are very likely to include full body pat-downs and manual inspection of all hand carried items.
-- In flight, at the discretion of the pilot and the individual airline, passengers may be required to stow all their personal belongings for any portion of the flight.
-- In flight, passengers may be required to remain in their seats with their hands fully exposed to view, for any portion of the flight but most likely, for the final hour of the flight.
Additionally, the U.S. Customs and Border Protection (CBP) reminds travelers that, according to the Western Hemisphere Travel Initiative, all U.S. and Canadian citizens, age 16 and older must present a valid, acceptable travel document that denotes both identity and citizenship when entering the U.S. by land or sea. All air travelers of any age are required to present a passport at time of entry to the U.S.
FamilyTravelForum.com suggests that parents discuss these enhanced security procedures with their children prior to travel , and that travelers use the CBP website (visit http://www.cbp.gov/xp/cgov/travel/wait_times/ ) to check on the estimated waiting times at all U.S. air, land and sea borders before making their travel plans. According to TSA spokesperson Ann Davis, these security precautions and other undisclosed ones will remain in effect indefinitely.
About FTF
Family Travel Forum (FTF), the family vacation media company, has served all who "Have Kids, Still Travel" with print and online guides since 1996. FamilyTravelForum.com has won many awards for its expert global coverage of family vacations ranging from multi-generational cruises to eco-adventures; the Top 10 Getaways survey of resort-based infant programs; a robust Flee Market™; forums on car seat and travel safety; gear reviews; pediatric travel health and a unique Custom Trip Planning service for consumers. For its publications including travelBIGO.com for the Before I Get Old crowd, and twice monthly e-newsletters packed with vacation deals, FTF has been honored with Travel Weekly's 2009 Magellan Award.
###