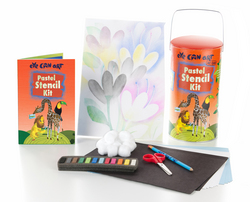 The kits offer guidance in an open ended way; [Eye Can Art kits] provide scaffolding for children's creativity. --Artist Julie Paschkis
Seattle, WA (PRWEB) October 20, 2010
Eye Can Art announces the release of another new art kit today, the Pastel Stencil Kit. Like the five other kits in their award-winning line, the Pastel Stencil Kit is packaged in an attractive, reusable paper can that features whimsical and colorful collage animals designed by artist, Sara Barnes. The Pastel Stencil Kit is the second kit in a series of budget-friendly products labeled "Art Class" that will retail for under $20.
Each of the 6 Eye Can Art kit styles teach an authentic art technique with clear, illustrated instructions. The Pastel Stencil Kit offers a beginning lesson on tonal values and negative/positive space. Kids design their own stencils, then create pastel pictures with shading. This kit contains everything needed to make at least 9 stencil designs.
In a departure from the typical mass market art kit, Eye Can Art kits encourage experimentation and expression. Artist, Julie Paschkis, whose work is featured in the Amate Cut Paper Kit explains,"The kits offer guidance in an open ended way; (Eye Can Art kits) provide scaffolding for children's creativity."
Eye Can Art is a small business based out of Seattle. Co-owners Bridget Daly and Shannon Ninburg, both artists and educators, believe that kids and adults deserve a creative outlet at home that sparks enthusiasm for art. They have created a line of art kits that are safe, easy to use, and provide a meaningful and imaginative project that can be shared with friends and family, or done solo.
With the release of the Pastel Stencil Kit, the Eye Can Art line consists of six kits, four of which have won prestigious toy awards. The kits are appropriate for ages 4 to 94 (ages 4-8 with an adult). They include Collage Printmaking Kit ($25), Layered Wax Drawing Kit ($25), Sumi-e Ink Painting Kit ($24), Book in a Box Kit ($24), Amate Cut Paper Kit ($19) released last month, and now the Pastel Stencil Kit ($19).
Eye Can Art kits are made in the USA; assembled by Northwest Center, a community non-profit that employs the disabled. These all-inclusive art kits can now be purchased at over 100 stores and museum shops locally and nationally. The kits are also available online at "http://www.eyecanart.com"
# # #