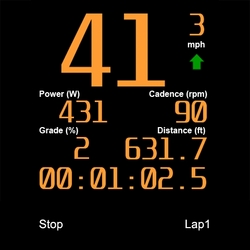 VeloComputer Power calculates actual propulsion power and provides this in an economic package delivered conveniently to a mobile phone.
Vancouver, Canada (PRWEB) October 4, 2010
SoundofMotion announces Version 8 of the award winning VeloComputer Power for BlackBerry Torch and selected Java™ feature phones equipped with bluetooth and accelerometer from LG, Nokia, Samsung, Sony-Ericsson and other vendors. Version 8 of VeloComputer features precise data measurement for distance, spot speed, acceleration and cadence. Using data collected and transmitted by the new VeloComputer Bluetooth wheel and pedal sensor, Version 8 analyzes propelling force, gravity, and rolling resistance. In an industry first, VeloComputer Version 8 calculates actual propulsion power and provides this in an economic package delivered conveniently to a mobile phone.
All VeloComputer performance data, including distance, speed, acceleration, cadence, GPS co-ordinates, 3 axis accelerometer, opposing, propelling and gravitational forces, power in watts and even exact pedal rotation time is recorded on a phone in a standard CSV file format. The standard text file format allows the user to review, analyze, compare and communicate their riding data with their choice of common software package. The rich VeloComputer data can be used by track and road cyclists and their coaches for specific performance analysis, performance modeling and advanced training program development. Cyclists can easily assess pedal efficiency as well as acceleration and forces with each pedal stroke. Cyclists can determine what forces affect their ride and how much propelled power they generate with a high degree of specificity.
Advantage of the VeloComputer file format include the flexibility and simplicity of spreadsheet analysis with standard programs such as Microsoft Excel, Google Spreadsheets or Open Office CALC. Bluetooth capable phones allow wireless transmission of the VeloComputer data files to a personal computer. VeloComputer trip files can also be published on Google Maps and viewed on Google Earth in 3D. Cyclists can easily share trip data and routes with one another.
VeloComputer has always focused on rider safety. Version 8 features automated timer start and stop functions so the cyclist can ride with both hands on the handlebars at all times when training or racing. VeloComputer also incorporates VeloTones for audible speed, acceleration and cadence monitoring. The VeloTones feature adds another degree of safety for cyclo-computers, allowing cyclists to keep their heads in an aerodynamic position, with their eyes on the track and not on the display. With VeloTones, cyclist can hear their important performance data with customized sounds.
The new VeloComputer Power application is available for download at http://www.velocomputer.com , GetJar.com and will be soon available at OVI Nokia, Sony-Ericsson PlayNow Arena and other app stores. To address a popular demand, in addition to Java and BlackBerry platforms VeloComputer will be soon available on Android mobile devices.
About SoundofMotion:
SoundofMotion provides innovative technologies for sport applications on mobile devices. SoundofMotion is the creator of the award winning VeloComputer for cyclists and the AlpineSport - sports performance mobile application for mountain biking, snowboarding, x-country and downhill skiing, and trail running. Over 200,000 sport enthusiasts are already using SoundofMotion's applications on Android, BlackBerry, LG, Nokia, Samsung and Sony-Ericsson phones. SoundofMotion is a winner of the Orange Design and Innovation contest, and a Top Ten Finalist at the New Ventures Business Competition. SoundOfMotion has been featured in 'Mobile Rules!' by Nokia, 'Top 10 Bike Gadgets' by PC Magazine, Pro-cycling magazine, Bikeradar.com, Java World, CTIA Wireless and other media. Further information can be obtained at http://soundofmotion.com .
###