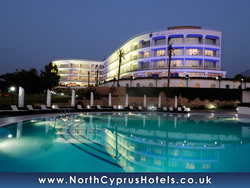 I'm delighted that many of our customers who books hotels with us come back to review their experiences on the NorthCyprusHotels.co.uk website, and in great detail too.
Kyrenia, North Cyprus (PRWEB) October 29, 2010
North Cyprus hotel review site NorthCyprusHotels.co.uk has published 500 real reviews of over 50 Northern Cyprus hotels submitted by UK and European holidaymakers.
NorthCyprusHotels.co.uk is a one-stop solution for researching and booking hotels in North Cyprus. Anyone planning a holiday in North Cyprus can search for over 50 hotels, read reviews from tourists who have stayed there already, and then book their chosen hotel, all on one site.
Izzet Zorlu, North Cyprus founder of http://www.NorthCyprusHotels.co.uk, has been amazed by the popularity of his website since it opened just under two years ago.
"Despite the recession, more visitors this year have enjoyed hotel holidays in North Cyprus, probably because the exchange rate between European currencies such as the UK pound and the Turkish Lira is so good. In North Cyprus, almost everything is around a third cheaper than in the Euro zone, so your money goes further.
Couple this with great deals offered all year round by our 5-star North Cyprus hotels, and North Cyprus becomes excellent value for holidays or even short breaks.
I'm delighted that many of our customers who books hotels with us come back to review their experiences on the NorthCyprusHotels.co.uk website, and in great detail too. Our reviews are some of the most comprehensive on the web, and our hotel reviewers don't pull their punches either. If they like a North Cyprus hotel, they say so and explain why, and you'll often find a 3 or 4 star hotel praised for their great service and friendliness. If they don't like anything abut their hotel even if its 5 star, they'll say so too, including our longest-running complaint regarding high drinks prices in some hotel bars."
At NorthCyprusHotels.co.uk reviewers can give each hotel a score for Value, Rooms, Location, Staff and Cleanliness, to create an overall rating. These ratings are then compiled to give the Top Ten hotels in North Cyprus, a prestigious list that appears on the front page of the website. Since reviews are being submitted on a daily basis at NorthCyprusHotels.co.uk, the top ranked hotels do change frequently, so North Cyprus hotels are very aware of the need to maintain their standards throughout the year.
The Savoy Ottoman Palace Hotel in Kyrenia is a 5 star hotel that appears consistently in the top 10 listings. One reviewer praises it for its "Great location, near to everything, able to walk to all restaurant/bar areas, very clean, fabulous staff." Their only complaint was that the Ottoman style rooms had "Too many cushions etc for us as we had nowhere to put them!" However, some found the foyer and lift background music distinctly annoying, as they were "Listening to Alicia Keys Empire State 8 times a day!"
The reviews also include helpful hints for visitors, such as paying the little extra for sea views at the Malpas Hotel North Cyprus, and what not to pack for the Merit Crystal Cove Hotel, as "They give you useful things such as shaving equipment and toothpaste and toothbrushes."
Founder Izzet Zorlu is very proud that the reviewers inevitably praise North Cyprus and its friendly people, regardless of which North Cyprus hotel they stay in. For example, one reviewer staying at the boutique British Hotel in Kyrenia said; "This place had it all: beaches, mountains, historic buildings, cobbled streets. I am so glad that I have found a small haven which differs from so many typical sun holidays. This place certainly hasn't been attacked by tourism, yet."
And it's not just the younger generation who review their holiday hotel experiences at NorthCyprusHotels.co.uk; one lady wrote "We always feel very safe in North Cyprus, which is important for two women on their own in this day and age. Out of all the countries we've visited, (which has been quite a number!), this destination is the best by far."
Review sites such as NorthCyprusHotels.co.uk have grown in popularity over the last few years, as it allows visitors to get an 'inside' view on hotels in North Cyprus. The descriptions by tourists who have actually stayed in the North Cyprus hotels listed, of room sizes, quality of the food, and the levels of service provided, often prove much more reliable than the 'sales text' of printed brochures or holiday websites.
Izzet Zorlu continues to personally read every review posted by visitors on their North Cyprus hotel experiences:
"I am always delighted how our reviewers aim to be fair in their reviews, trying to give an overall picture beyond their personal likes or dislikes. It's also clear that reviewers read other NorthCyprusHotels.co.uk reviews before writing their own, as often they'll remark on progress made on certain issues, or more often, disagree with heavily negative reviews.
"Overall, our reviews show that North Cyprus hotels are good value, with high standards of cleanliness, service and good facilities. Of course, there are always issues to be highlighted, but I know most hotel managements read our reviews, so problems do get solved in as a result of a review on NorthCyprusHotels.co.uk!"
For more details, go to http://www.NorthCyprusHotels.co.uk
NorthCyprusHotels.co.uk is an independent North Cyprus hotel review website founded by Turkish Cypriot Izzet Zorlu.
NorthCyprusHotels.co.uk publishes genuine reviews of hotels in North Cyprus, written by tourist and holidaymakers. All 57 of the hotels in North Cyprus featured on the site can be booked through a sister site, GoNorthCyprus.com, which also offers exclusive deals and discount rates.
###