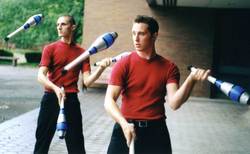 "The best thing we have ever done for our students!" - Agnes Gray School
Turner, ME (PRWEB) October 4, 2010
After performing at The White House three times and being recognized as "one of the hottest juggling acts in the country!" by Inside Edition, Jason and Matthew Tardy are now sharing their world-class performance with school-children across the country. But, what is really amazing about this performance is not the high energy juggling, positive message, or inspirational stories – what is really amazing is that it is completely free for schools.
In the last few years schools have faced enormous budget-cuts, especially for things like performing arts, and assembly programs. That is why brothers, Jason and Matthew Tardy set out to find a new way to offer their performance to schools.
"We believe children learn best when they're being entertained and having fun. So we were determined to find a way for schools to afford our show even in these tough economic times," said Matt.
The free school assembly is a 30-minute romp featuring high-energy juggling, physical comedy and inspirational stories. The show addresses such topics as goal setting, bullying, drug and alcohol awareness and the importance of an education.
"The program actually includes two performances," said Jason. "We do one daytime show for the students mixing our juggling with character education, and then invite students to come back with their families for a night of non-stop entertainment."
The evening performance features additional stunts and routines not seen during the student performance. A nominal cost, usually about $5, is charged for tickets, with approximately 10 percent of proceeds from the evening show going back to the host school.
"We only make money if people buy tickets for the evening show, but we are confident that students will be so energized and inspired that they will come back with their families to see more! It's really a win-win situation for everyone involved," said Matt.
For schools who are interested in providing inspirational and fun educational entertainment to their students, they can contact Matt and Jason Tardy to perform at their school by calling 1-866-584-4532 or sending an email to info(at)twoshow(dot)com.
Read more about the Free School Assembly Program.
# # #