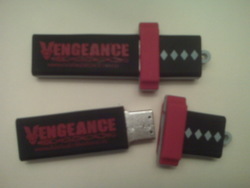 "Ditch the Cineplex ticket and pick up this title for an intense, action-packed thriller." -AudioFile Magazine
Nashville, TN (PRWEB) October 1, 2010
AJ Scudiere's second AudioMovie has just been released and it is available as USB Flash Drive. The AudioMovie is an unabridged, enhanced audio book, included a complete cast, sound effects, and a soundtrack. No more listening to a single reader arguing throughout the dialogue. Each part is acted by a unique actor. Guest voices on the AudioMovies include Arte Johnson, Stephanie Zimbalist, Kristoffer Tabori, and Stefan Rudnicki.
Tired of listening to "Woof - he heard the dog bark"? Now the story comes to life. Perfect for long commutes, travel, runners, and audiobook lovers. These suspense novels will keep you engaged throughout.
Vengeance tells the story of a young woman whose family was taken out by mafia hitmen, but she comes up swinging. As she seeks her revenge, she continues to bump into a man who is on the same mission and they keep getting in each other's way. The FBI agent on their case doesn't know whether to lock them up or let them keep taking out the bad guys. The USB special edition is a ninja sword.
Resonance is about four scientists all following different clues and ending up in the same place. Earth's magnetic poles reverse approximately every sixty million years ago and the last time was sixty-five million years ago. The earth is five million years overdue and people are dying and animals are mutating. The USB special edition is a wearable bracelet.
For more information and to listen to free samples, visit AJ's website http://www.AJsAudioMovies.com. The USB flash drives are only available through the website, and the AudioMovie digital downloads are available through the website, Audible, and iTunes. AJ also has a free podcast, Smart Chickens, available on iTunes.
# # #