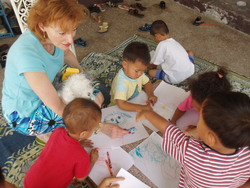 "What if we could reach kids before the traffickers do?"
Orlando, FL (PRWEB) October 1, 2010
A Florida-based journalist-turned-abolitionist who was named by the Huffington Post as one of the "[top 10 women warriors of Twitter" has launched 10/10/10—a one-day Twitterthon on October 10, 2010, to raise funds to stop child trafficking.
Diana Scimone, a veteran journalist who for years has chronicled the $34 billion-a-year human trafficking industry, founded the non-profit Born to Fly International to help end child slavery.
Scimone's Twitterthon goal is for 10,000 people to give $10 each on 10/10/10—the $100,000 needed to print a new child-trafficking awareness book and curriculum designed to reach kids before the traffickers do.
"Each year millions of kids are lured into sex slavery including all over the US because they don't know the deceptive tactics of traffickers," Scimone says. "What if we could warn kids and their parents ahead of time? What if we taught them about the lies traffickers use—and how to stand up to them? The rate of trafficking would drop and millions of kids would never be trafficked."
That's the goal of The B2F Project: to reach kids before the traffickers do. The centerpiece of the 6-week community campaign is a wordless picture book—wordless so that it doesn't have to be translated into hundreds of languages. It teaches children to make wise choices, know who their true friends are, and spot empty promises of traffickers. A companion curriculum teaches the important concepts in the book.
Scimone visited numerous safehouses to write the storyline for the book, which was illustrated by artist Leah Wiedemer, and worked with a team of educators to develop the 70-page curriculum.
The wordless book and curriculum are being piloted in the Dominican Republic this month. The final versions are scheduled for release in early 2011 when Born to Fly will ship them to schools and community organizations that have requested them in Ghana, Thailand, Iran, Haiti, Germany, Cambodia, India, Bulgaria, the US, and elsewhere.
"Our goal is to give the materials away without charge, of course," Scimone says. "So we're counting on crowdfunding to help get this done." Enter the 10/10/10 Twitterthon.
Crowdfunding 101
Twitter has become a major source of crowdfunding—raising funds by appealing to large numbers of ordinary people for small donations.
Last year Born to Fly hosted a Twitterthon on 09/09/09, which was featured on Mashable.com, one of the most respected social media authorities on the web, and in dozens of blogs. Scimone says the attention helped Born to Fly with a successful 09/09/09 Twitterthon including lots of awareness and new partnerships.
Going viral
Scimone, who regularly tweets as @dianascimone where she has 2,300 followers, says Twitter could not have arrived at a better time.
"What I love about Twitter is the community," she explains. "Twitter connects me with people I don't know, but should. That's why last year's Twitterthon went viral. People tweeted their followers, who in turn tweeted their followers, and in the end most of the donations came from people we didn't know. It was 'six degrees of separation' in reverse."
The 10/10/10 Twitterthon challenge
Children as young as pre-schoolers are lured into modern-day slavery all over the world, including in the US, where they're raped for profit—night after night. "Some of these children are just 4 years old," says Scimone, who wants the Twitterverse to get angry about that and then do something about it:

Donate: Go to http://www.born2fly.org and use the orange Chip-in button to donate $10.
Twitter: Tweet about it.
Email: Tell 10 people about 10/10/10 and ask them to donate $10.
Blog: Post about 10/10/10.
Facebook: Talk about 10/10/10.
Updates: Check Diana Scimone's blog for the latest: http://www.dianascimone.com.
"Traffickers think kids are commodities," Scimone says. "On 10/10/10, I challenge the Twitterverse to tell kids they're priceless. All it takes is $10."
###