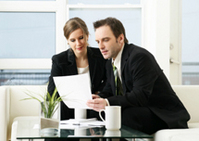 Rockwall, TX (PRWEB) October 1, 2010
A recent surge in Professional-Resume-Example.com's growth is coincidentally marked by its fifth anniversary.
Professional-Resume-Example.com has seen a marked jump in traffic recently which has brought about related increases in customer contacts and revenues. Site owner, Carla Vaughan-Bosteder, cites the addition of articles related to the job search as well as a restructuring of the job search section of the site as reasons for the recent growth.
The site originally began as an information hub for resume examples and resume tips. It soon grew to include sections on cover letters, career planning and the job search. With nearly 200 pages of original content, the site draws traffic from all over the world.
Advertising options will include banners, text links, and fully optimized pages depending upon the needs of the advertiser.
To receive additional information about http://www.professional-resume-example.com or the advertising opportunities available on the site, please contact site owner, Carla Vaughan-Bosteder at: carla(at)professional-resume-example(dot)com or 214-263-8135.
# # #