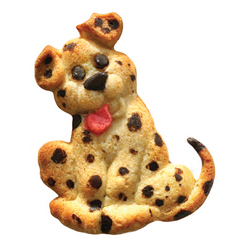 "It's always fun to create these designs, But it really feels great to produce a product that people will use to make their loved ones smile" -Sculptor Sandra Lira, Zanda Panda bakeware designer and founder
Kensington, CT (PRWEB) October 1, 2010
Zanda Panda Specialty Bakeware brings their new Puppy mold out to play. The new baking pan/craft mold joins their other fanciful designs, the Kaleidoscope Heart and Butterfly and the Unicorn Mold, for baking, molded desserts and arts & crafts fun.
Brightly colored and kid-friendly, the flexible silicone Puppy mold will appeal to children, bakers, pet lovers and crafters. The whimsical design features an adorable puppy with a background of meandering paw prints.
As versatile as it is cute, it can be used for baking cakes, cookies, breads and brownies; molding chocolate, gelatin and fudge; and creating arts & crafts with clay, plaster, salt dough and other moldable materials. It also makes a great birthday cake for lucky kids or dogs.
'Kids in the Kitchen' is a hot trend and Zanda Panda's Puppy design is right in step. Kids can decorate their cake or cookies to look like the family pet or their favorite dog breed. A 'Decorate Your Puppy Cookie' activity is also a fun, creative idea for children's parties.
In addition to baking cakes, kids can also make chocolate Labrador puppies, chocolate-chip Dalmatian cookies, and can even make poodles and long haired dog breeds with tubed icing or shredded coconut. The appealing design will also be appreciated for children's rainy-day craft projects.
"It's always fun to create these designs," remarks sculptor Sandra Lira, Zanda Panda's bakeware designer and founder of the company. "But it really feels great to produce a product that people will use to make their loved ones smile" she adds.
Recipes and ideas for using the Puppy Mold can be found at ZandaPanda.com, or the ancillary blog at zandapanda.wordpress.com.
The Puppy mold is 9 inches (22.9 cm) in diameter and is made of FDA (US) or LFGB (EU) approved, 100% food-grade, platinum cured silicone. It has a temperature range of -40 to 446 °F (-40 to 230°C) and is oven, microwave, freezer and dishwasher safe.
The new Puppy design will be available at ZandaPanda.com and will shipping in late October, 2010. Suggested retail price $24.99. Reservations are now being accepted.
For more information, please visit zandapanda.com or contact:
MEDIA: For more information or interviews, contact Sandra Lira at 860-922-4060 (cell) or Lira(at)zandapanda(dot)com.
IMAGES: Both 72 dpi and 300 dpi resolution images are available for download at: zandapanda.com/press.asp#puppy
ADDITIONAL:
ZANDA PANDA Puppy Web Page: zandapanda.com/Puppy.asp
Dalmatian Puppy Cookie Recipe: http://tiny.cc/ZPDalCookie
CONTACT:
Sandra Lira
ZANDA PANDA Specialty Bakeware
PO Box 7332
Kensington , CT 06037
PHONE. 860-828-3336
CELL: (860) 922-4060
EMAIL: Lira(at)zandapanda(dot)com
WEB: http://zandapanda.com
ZANDA PANDA Specialty Bakeware
PO Box 7332, Kensington, CT 06037 • 860.828.3336 • zandapanda.com
# # #