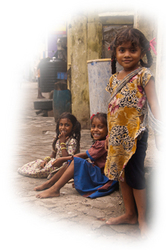 "We want to help children think beyond themselves. Together, we can discover India and raise funds to help change lives on the other side of the world."
Littleton, CO (PRWEB) October 1, 2010
My Passport to India, a five-week giving and learning project for kids that literally changes lives, starts Oct. 5. Sonlight Curriculum and Mission India are partnering to help children learn about the culture of India while raising money to support Children's Bible Clubs.
Families are invited to join Sonlight Curriculum for five weeks of educational activities and heartfelt giving. Over 8,000 families from all 50 states and 64 countries have already signed up to participate.
Click here to learn more and watch the intro video.
The project provides a chance for homeschooling families to experience the "real" India. In weekly videos created specifically for this project, homeschool students will follow Chris (an "average guy" tour guide) on his first trip to India. He gives a whirlwind tour--from rural villages to bustling temple cities, from typical Indian homes to a real rickshaw ride.
As children learn about India, homeschool families will also have the opportunity to help Indian children find hope. Through this project, Sonlight Curriculum and Mission India hope to raise enough money to send a third of a million Indian children to life-changing Children's Bible Clubs!
These clubs open opportunities for children like Prodip, who used to work long hours in a cashew factory. He found the tutoring he needed in the Children's Bible Clubs and is now back--and thriving--in school. Another child, Suraj, introduced his entire family to Jesus because of the peace and hope he found when he started the tutoring program in the club. These children find not only spiritual help, but also social transformation as they combat poverty, drunkenness, hopelessness and shame.
Toward that end, John and Sarita Holzmann, Founders of Sonlight Curriculum promise that for every $1 a family contributes, Sonlight will match dollar-for-dollar, up to $167,000. Sonlight's goal is to raise $334,000 total.
One dollar per child covers the cost of teacher training, curriculum, audio cassettes and a few other basic materials for these clubs. So $334,000 can send 334,000 children to Bible club!
Learn more: MyPassportToIndia.org
Homeschooling families who register for the project will receive a welcome packet with a special "passport" for each child and a "family suitcase" to fill with loose change and dollars. The five exciting weeks of activities from Mission India start Oct. 5 (participants can jump in and catch up at any point). Registration is free and does not obligate a donation.
"The goal of getting students involved is to raise awareness of the needs of people who live very differently than we do--particularly people of the 10/40 window or people who have never had a chance to hear the Good News," said Sarita Holzmann. "I love the idea that our students will one day have an opportunity to meet children from half way around the world who are believers because of the sacrificial gifts they gave. Together, we can discover India and raise funds to help change lives on the other side of the world."
About Sonlight: Sonlight Curriculum is a Christian company specializing in literature-based homeschool curriculum programs. They provide complete curriculum packages and individual resources for PreK-12. Sonlight is based in Littleton, Colorado, and serves customers in over 150 countries worldwide.
###