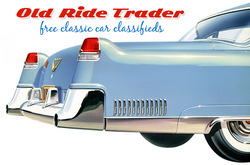 With over 2,000 cars for sale, Old Ride Trader is gaining in popularity amongst classic car dealers and private sellers.
San Mateo, CA (PRWEB) October 6, 2010
Introducing Old Ride Trader (ORT) http://www.oldridetrader.com a free classic car classified site created by guys who love old cars. The goal was to create a dynamic auto marketplace to connect various classic car enthusiasts interested in buying, selling, and trading street rods, as well as muscle, classic, antique, vintage, and collector cars. From rat rods to originally restored show cars, Old Ride Trader offers a variety of classic cars in a variety of conditions and price ranges for every potential buyer.
Old Ride Trader listings are not only free, but easy to post and edit. They offer unlimited car listings and allow up to 6 photos per listing. With thousands of new postings, ORT harnesses the power of the internet with targeted, organic traffic. With over 2,000 cars for sale, Old Ride Trader is gaining in popularity amongst classic car dealers and private sellers.
In recent years, collecting and restoring classic cars has grown in popularity, and Old Ride Trader is excited to be added to the classic car marketplace. Unlike most classic car classifieds and auto traders, Old Ride Trader offers a 100% free service. They make their revenue through affordable banner display advertisers and sponsor partners and never charge private sellers, car dealers, or auction houses to post ads. In addition, ORT keeps your advertisement online for as long as your car is for sale.
Old Ride Trader goes beyond buying and selling cars....in addition to classic car classifieds, they also offer features to help car enthusiasts find classic car related resources:
Turn your hobby into a career: With the changes in our economy, additional skills prove to be beneficial. Auto technicians have specialized knowledge that is necessary for car enthusiasts to keep their new, used and classic cars running smoothly. People are becoming more and more dependent on their cars, but don't have the mechanical skills, so becoming an auto technician can be both fun and rewarding, especially for guys looking to restore their own cars. Old Ride Trader features an Auto Mechanic & Technician Education Channel that offers hundreds of online and campus Auto Mechanic programs, courses and training. Request free info from the top Auto Mechanic schools, and turn your passion and your hobby for fixing classic cars into a new career.
Take a ride in ORT's classic car video time machine: Old Ride Trader video channel takes you back in time with custom videos highlighting retro advertising and photos of vintage car dealerships, drive ins, gas stations and car ads of the 1920's through 1970's. ORT takes you on a nostalgic journey through the years of America's love affair with the automobile.
Let ORT assist you in your car search: Old Ride Trader's car alert newsletter keeps you informed when finding the car of your choice. Just sign up and select the type of car you are looking for and ORT will automatically pull results of classic cars in that category and alert you.
Check out ORT's classic car article library: Old Ride Trader's Classic Car Article Library is filled with articles that give information and resources including classic car restoration vendors, suppliers, services, insurance and auto transportation quotes, car buying tips and more.
Find parts, suppliers, and services: From locating a camshaft to a woodgraining specialist, you can find thousands of parts suppliers & services on ORT! Find classic automotive related services and products including NOS, used, reproduction and custom parts suppliers, as well as services like restoration & repair and financing & insurance. Whether you're looking for salvage & junk yards or specialty shops, we can help you find the services, parts and resources you're looking for. And if you have a car related service to offer, we invite you to add a free listing today, and connect with thousands of classic car enthusiasts.
With the uncertainty of today's economy, investing isn't as much fun as it used to be. Stocks are worth just a fraction of the value they held in the late 1990's, money market accounts are earning less than two percent annually, and savings accounts are making about half of that.
People are tired of getting little to no return on their investments or losing their hard earned money to risky investments, so they're looking for other ways to make money. Instead of dealing with the stock market's unpredictability in today's economy, people are focusing on purchases that can be enjoyed while they appreciate in value, such as real estate, artwork,and collectible cars. These cars are also a popular choice for those who grew up in the 1950's and 60's, reaching a time in their lives when they are nostalgic for the "good ole days", and now have the money to buy the car of their dreams.
The sophisticated and luxurious cars of the pre-war and early post-war era still remain desirable today since there are fewer available. When it comes to the early classic car models, it's hard to determine what is more popular, but instead what is available. Currently, big-engined Pony Cars (Mustangs, Camaros, Barracudas and Challengers) and American Muscle Cars are amongst the hottest segment. The Dodges and Plymouths of the late 1960's and early 1970's with Hemi engines, and the 1970 and 1971 Chevelle SS 454s are also getting a lot of attention.
Before buying a classic car as an investment, remember that the market value will have it's ups and down cycles, and few investors can predict the next trend. The safest and most satisfying long-term plan is for collectors simply to buy what they really like. A positive financial return on the investment is just an added bonus, but pride of ownership is priceless.
So, whether you're looking for an investment, or something much more personal...the car you grew up with as part of the family, the car you only dreamed of as a child, the car that brings back memories of a simpler time, or the car that you've admired on the road for years, you can find it at http://www.oldridetrader.com
###